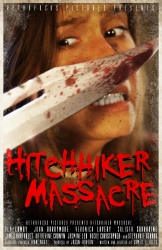 Los Angeles, CA, February 07, 2014 --(
PR.com
)-- Retrofocus Pictures presents the theatrical premiere of the horror feature film "Hitchhiker Massacre", Monday, February 10, 2014. The red carpet event begins at 7:30 PM and will be held at the New Beverly Cinema, located at 7165 Beverly Blvd, Los Angeles, CA. Movie begins at 8:00 PM. The evening's event will be hosted by noted burlesque artist, Miss California St. Clair, known as 'The Glamour Girl of the Golden Coast'.
"Hitchhiker Massacre" is a horror/slasher movie about a homicidal maniac who hunts his prey off the Interstate of the California desert! Stars Ely Lamay, John Blyth Barrymore, Calista Carradine, and features Playboy Playmate Veronica LaVery and International singing sensation Stephanie Gerard.
"Hitchhiker Massacre" is the feature film directorial debut of James L. Bills (Refuge of Last Resort), who has recently wrapped work on the notable TV hit series "Revolution" and "Sleepy Hollow".
The film was Produced by Ivan Nagy (HBO's The Hitchhiker, Captain America II, Death Too Soon), and by Jason Horton (Monsters In The Woods, Edges of Darkness).
According to Producer, Jason Horton, "Hitchhiker Massacre" is an homage to the 80's style of slasher horror films. The movie was filmed on various locations in Los Angeles.
Private event. All Press are invited.
All press inquiries, and for more information regarding "Hitchhiker Massacre", please contact Media Relations at 310-498-7912.