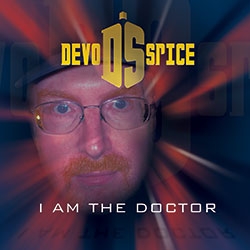 Stockholm, NJ, February 10, 2014 --(
PR.com
)-- Comedy-rapper Devo Spice is set to release his Doctor Who concept album titled I Am The Doctor on February 22nd. The album—which comes with a multi-frame lenticular cover to simulate a parody of the show's iconic intro—features one song per incarnation of The Doctor plus the title track. The album was funded by a successful Kickstarter campaign last fall and was produced to celebrate the show's 50th anniversary. It will be available on CD and as a digital download.
"I wrote the song 'I Am The Doctor' as a stand-alone song a while ago but I wanted to do something special for the 50th anniversary," says Tom "Devo Spice" Rockwell. "When I came up with the idea for the concept album I thought it would make a perfect title track."
Besides the title track the album contains eleven tracks—one for each Doctor. Each song focusses on one aspect of the show and one particular incarnation of The Doctor. For example, the second Doctor song "Lost In Time" laments the fact that a large portion of the second Doctor's episodes were destroyed by the BBC. That song contains the names of all the stories with missing episodes interwoven into the lyrics.
The album features several cameos by actors from the show. Peter Davison, who portrayed the fifth incarnation of The Doctor, makes a cameo appearance on his song "Companion Application." Katy Manning who played the Third Doctor's assistant Jo Grant sings the chorus on "Carnival of Monsters," and Sophie Aldred who played Ace alongside the seventh Doctor appears on "The Regeneration."
The album will be available on iTunes and Amazon on February 22nd. CDs will be available from devospice.com and in select retailers. Devo Spice is having a special CD release concert at a science fiction convention called MystiCon on February 22nd in Roanoke, VA.