Alpaca's Creating a Punch at a 33% Increase This Year in New Owners, Adding to Washington's Home Industry Economy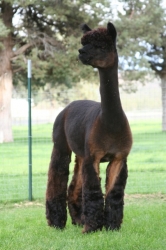 Seattle, WA, February 11, 2014 --(
PR.com
)-- February is the month of love, and the growing NW industries of Alpaca Ranchers are turning love on its ear. Alpaca ears to be exact with a nationally renowned Herdsire (Stud) worth $350,000.00 "Crescent Moons Kryptonite" will be at "Alpaca Amore Affaire" owned by a local Washington Ranch "Alpacas of Strawberry Fields."
The AObA has just published that Washington State has over 20,000 alpacas. This is the largest population of alpacas in America next to Ohio. The Alpaca Owners Association (AOBA) recently reported that, in the past 12 months, 30,000 people requested Farm and Ranch memberships, with a 33% increase in alpaca owners and breeders joining the agriculture farming with some of the cutest farm animals that you will lay your eyes, and hands on. At that current rate the United States can expect to have a national herd of over a million head, within the next 15 to twenty years, and 2 million by 2025.
Evergreen State Fairgrounds will be the location of the first of its kind breeding and sales event for alpaca ranchers of Washington, Oregon, Idaho, and California. This event, "Alpaca Amore " is a Love Affaire with Alpacas." It will be held February 14th 2:00 to 7:00 February 15th 10:00am to 7:00 pm.
"Alpaca Amore " management team is introducing an innovative approach to the marketing of breedings and the selling of alpacas by using live streaming making this event truly a live international affair. AOBA, and International Certified Alpaca Judge Mr. David Barboza from California will be on site and available for personal conversations with locals and to answer questions from buyers from across the country with over 100 animals on hand.
"Alpaca Amore's" technique will provide alpaca ranchers from all over the world the opportunity to view alpacas up close via live streaming, speak to the breeder and an impartial evaluation and purchase some of the Best Alpacas and Breeding Stock in the United States.
Free seminars including Alpaca 101 farming education for beginners to advanced, Alpaca Breeding practices do's & don't from the experts, Current market trends, Fiber-n-More, "Barley Fodder Mat Production: An Alternative Approach to Livestock Feed with Lower Costs and Increased Herd Health," A Live International Auction for breeding rites to some of Americas National Champion Herdsire Studs.
The public can attend Free and have an up close and personal get their hands on experience with Alpacas, feel their luxurious fiber and while see some of the United States most valuable Herdsires Studs. There will be vendors on site selling alpaca products from splendid clothing to fiber processing equipment.
Alpaca Amore
Contacts: Marlene Presser of "Longneckers Alpaca Ranch" 360-651-2647
Chris Sturgeon of "Alpacas of Strawberry Fields" 206-280-8221
Website:
www.alpacaamore.org
Contact
Alpaca Amore Affaire
Marlene Presser
360-651-2647
alpacaamore.org
Chris Sturgeon
206-280-8221

Contact