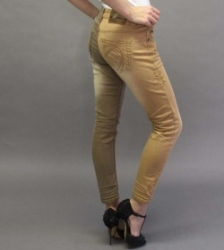 New York, NY, February 11, 2014 --(
PR.com
)-- EARUGBY Denim is proud to announce that its upcoming denim collections will be made in the USA. The brand will have the pleasure to kickoff its latest fashion on the runway during New York Fashion week 2014 at the Griffin in the meatpacking on February 13th at 9:30 pm.
The Griffin is located in the heart of the meatpacking, the trendy neighborhood of New York City. The Griffin has this refined ambiance sought after by artists, designers and celebrities with its décor inspired by the Gilded Age of the late 19th century. The venue is a perfect combination of sophisticated and luxurious to reflect EARUGBY Denim new collection and brand lifestyle with harmony.
When Euclide founded the company in 2003, he created a denim line that projects a bold and defiant stance for self-expression and individuality without conforming to the norms. There is only one simple component that Euclide wanted to reinforce and stand behind his whole design concept: FIT IS KING. Being a design fit expert, he offers the best fits by using the finest denim fabrics and workmanship in the USA. Redefining denim wear and offering top quality premium denim in an assortment of fits, styles and designs. EARUGBY Denim is an unconventional denim line that is translated in a pure self-expressed yet sophisticated and luxurious lifestyle.
The brand is now offering two collections of its favorite jeans with washed denim made in Los Angeles and a raw and selvage collection made in New York City.
Contacts
The event is organized in collaboration with Ricardo Lopez from Sunset rendez-vous. To attend the event please contact us at info@sunsetrdv.com
For more information about the company please contact:
Mylene Delattre
866.456.7968
press@earugby.com.