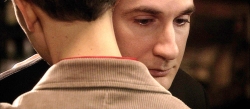 New York, NY, February 25, 2014 --(
PR.com
)-- Brave Lad Films announces the world premiere of "The David Dance", a feature film directed by Aprill Winney, at Cinequest Film Festival in downtown San Jose, California March 8th, 9th and 11th at Camera Twelve Cinemas. "The David Dance" is an inspiring drama, spiked with humor, about family and self-acceptance. From actor/writer Don Scimé, the film also stars Tonye Patano (Weeds), Jordan Baker (Another Earth), Antoinette LaVecchia (Delirious) and Guy Adkins. The opening screening will be held on Saturday, March 8th at 1:45pm and will continue Sunday, March 9th and Monday, March 11th at 2pm. Camera Twelve Cinemas is located at 201 South 2nd Street in San Jose, California.
For schedule, trailer and to purchase tickets go to:
Cinequest.org
The David Dance Official Trailer on YouTube:
http://www.youtube.com/watch?v=8Mgr1ec8hfA#t=0
Set in a cold winter, "The David Dance" tells the story of siblings, David and Kate. David is the host of a local radio show called "Gay Talk", which usually focuses on such breezy topics as "Body-Piercing: Fashion or Faux Pas?" Outspoken in his radio persona, David is shy off the air. Kate is a thrice divorced banker with a yen for classical music and cats. Though they are both successful in their own right, they share a secret inadequacy about themselves. Kate decides to adopt an orphan in Brazil and asks David to be a father figure. Meanwhile, David grapples with his self-doubts while courting an amiable co-worker who also moonlights as a drummer for an all-lesbian rock band. Told from present to past and back again, we experience the bittersweet life of a man as he struggles to pull its colorful pieces together.
Directed with humor and sensitivity by Aprill Winney, "The David Dance" is based on the play by Don Scimé. Cinematography is by Ian McGlocklin Sinclair and original music is by Marc Jackson. For more information, please visit www.thedaviddance.com.