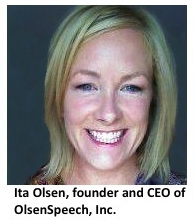 New York, NY, March 03, 2014 --(
PR.com
)-- Do your killer ideas fall on deaf ears in meetings? Do your watertight arguments fail to persuade? Do you cringe when you hear yourself on voice mail? If so, you may be a prime candidate for the Voice Spa course relaunched today by Ita Olsen, founder of OlsenSpeech in New York City.
Voice Spa is a personalized, one-on-one course with Ita Olsen—one of the world's leading authorities on speech, vocal quality, accent modification, and effective communication.
Each Voice Spa course is held online via webcam, providing each individual client with a discrete experience no matter where in the world they are. Each course begins with a free expert analysis of the client's current speech and continues with tailored exercises to help each person learn to speak more clearly, professionally, and beautifully, including:
- Breathing techniques for a more resonant, engaging voice
- Relaxation exercises to communicate confidence through stressful situations
- Speech pattern analysis to promote more efficient, compelling speech
"This is not speech therapy, this is beautification of voice," said Ita Olsen. "And when you've mastered that beauty, there can be a very real difference in people's willingness to listen."
OlsenSpeech is already a big hit with a number of entertainers and performers who have come to perfect their vocal signatures. But in an increasingly competitive economy, it's big business that has become the company's leading source of clientele, which regularly includes top executives and managers from a surprising range of Fortune 500 companies.
"Our proprietary training system has been developed with an emphasis on achieving the upper hand in the corporate world," said Ita, "we empower people to deliver persuasive speeches, achieve winning interviews, and develop new rapport and confidence that can transform career prospects and make a life-changing difference."
Each and every client has the advantage of benefitting from Ita's unrivaled experience backed by the credibility of both a Bachelor's degree and a Master's degree in Speech Pathology. What's more, she is also the author of two books—Great Intonations and The Perfect Accent—as well as a range of instructional videos.
For a limited introductory period, each one-hour Voice Spa lesson is available at the exceptionally reasonable rate of $225, with the number of lessons set according to the needs of the individual.
"The cost of not realizing one's full potential simply can't be measured," said Ita, "so we're especially excited to help new clients achieve the success they deserve by relaunching the Voice Spa at this special introductory rate."
To learn more about OlsenSpeech, visit www.olsenspeech.com
About OlsenSpeech, Inc.
OlsenSpeech was founded in 1996 by Ita Olsen—one of the world's leading authorities on speech, vocal quality, accent modification, and effective communication. Now, through the relaunch of the Voice Spa course, OlsenSpeech is primed to build on its clientele of top executives and managers to help anyone, anywhere via webcam to learn how to speak to succeed.