Author Tiffani Neilson Releases Her New Book, the "Sin City Survival Guide"
Attention tourists and locals, the Sin City Survival Guide is your exclusive how-to 702 handbook for all things Las Vegas. Written by local entrepreneur, Tiffani Neilson, the "Sin City Survival Guide," is a must read for anyone who has visited, is planning to visit, or is permanently visiting Las Vegas. Complete with Maps, Facts, Tips, Tools, and local secrets, the "Sin City Survival Guide" gives you the answers you need to make the most of your time in the entertainment capitol of the universe.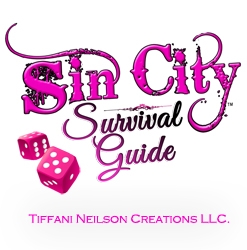 Las Vegas, NV, March 08, 2014 --(
PR.com
)-- Originally from a small town, author Tiffani Neilson gives her take on what it takes to survive in Sin City. Leaving her family behind, Tiffani took her chances and moved across the country. Voted 2010 Vegas Princess and awarded as one of the Distinguished Woman of Nevada, Miss Neilson has a unique perspective that is both informative and entertaining. Tiffani is a well-known Las Vegas Localite that tells you the secrets to VIP access for the hottest clubs, parties & after hours. Equipped with FAQs, 702 trivia, a bucket list and glossary, this is a book not to be overlooked.
The Sin City Survival Guide is more than a simple guidebook or directory of information. Hotels, shows, nightclubs and attractions highlighted in the book, are complimented by the website SinCitySurvivalGuide.com, which features a more detailed and current listing. This one-of-a-kind book tells a story using real-life examples along with exclusive full color photos of the author and her local Las Vegas friends.
The book welcomes the reader to Las Vegas then asks them to consider their purpose for being in Sin City. Next is a list of 21 things you just don't do in Vegas, followed by descriptions & information on where to stay and more importantly... where to play. Las Vegas operates like no other city and the locals lead lives that are equally as signature. The "Sin City Survival Guide" explains the unexplainable when defining the gray areas of LV party protocol and the social standards of the 702.
Tiffani Neilson plans to launch the sequel in 2015, "Sin City Survival Guide X-rated." Tiffani's goal is to publish a collection of Survival Guides, which cover the needs of more targeted readers, such as: How to plan the perfect Family Vegas Vacation and the bachelor/ bachelorette editions. Neilson has always had a passion for motivational speaking and feels that this book echoes what every tourist and local should know about the infamous, Sin City.
The Official Sin City Survival Guide Launch party is Friday March 7, 2014 at XS Nightclub. The book is currently available as a Kindle ebook, ibook, or full color paperback at Amazon, BarnesandNoble.com, or www.SinCitySurvivalGuide.com.
Don't wait. Order your copy of this sinfully entertaining literary masterpiece by going online and buying it today.
www.SinCitySurvivalGuide.com
Contact
Sin City Survival Guide
Tiffani Neilson
702-720-4725
www.sincitysurvivalguide.com

Contact