Capital Trust Markets Teams Up with FX Copy to Diversify Trading Solutions
Capital Trust Markets Joins Forces with FXCopy in an Attempt to Innovate Copy Trade Practices.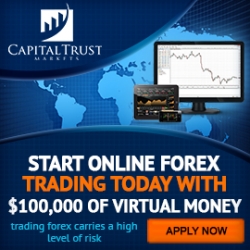 Rome, Italy, March 18, 2014 --(
PR.com
)--
Capital Trust Markets
, which has been involved in the delivery of financial trading and investment solutions to its customers, recently joined forces with FXCopy - a leading online social trading company.
"We believe that our cutting edge technology and the unique social trading features of the FXCopy website will combine to create a perfect trading environment for our clients," said Bryce Patton of Capital Trust Markets.
Capital Trust Markets anticipates that their customers will benefit from the information and the 'copy trade' feature delivered by FXCopy. The copy feature will allow them to learn from and copy the trades of successful traders on the site, allowing them to bank on the expertise of others.
This unique technology coupled with some of the most advanced trading tools in a flawless environment as delivered by CTM are sure to generate positive results.
FXCopy, which is a large online community of traders and brokers, enables its users to follow successful traders and copy their behaviors in order to benefit from them.
The clients of FXCopy looking to gain the services of this online Forex brokerage firm will have the opportunity to set up a live or demo account where they can maintain any account balances between $25 and $50,000.
Another reason behind this affiliation was the level of security delivered by FXCopy. Safety and security when it comes to foreign transactions are important to Capital Trust Markets and they wanted to maintain that commitment when it comes to affiliations.
FXCopy and Capital Trust Markets both have the same ideology when it comes to security and customer support. Which is why teaming up made absolute sense as both companies aim to deliver superior client support.
As Capital Trust Markets teams up with an ever growing trading community it will tap into a large pool of traders promoting successful trading practices enabling others to learn from them. So far it seems that the affiliation will result in mutual success.
Start Trading Today and team up with two of the industries most trusted providers!
About Capital Trust Markets
Capital Trust Markets is an online Forex brokerage firm, headquartered in New Zealand. It was established in 2013, with an emphasis on providing the most excellent customer services in the industry. The trading environment offered to investors and traders is unparalleled - devoid of all common mistakes usually prevalent in the financial trading industry. The focused determination to provide the highest quality products, services, and support to clients and customers is what truly sets Capital Trust Markets apart from every other major brokerage firm.
Contact Info:
Capital Trust Markets
41 Shortland Street, Plaza Level
Auckland, 1010
New Zealand
+64 9 889 1770
Website: http://www.capitaltrustmarkets.com
Contact
Capital Trust Markets
Bryce Patton
+64 9 889 1770
www.capitaltrustmarkets.com

Contact