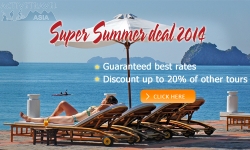 Hanoi, Vietnam, March 24, 2014 --(
PR.com
)-- Active Travel Asia and Holiday Indochina offer
Super Summer 2014
where travelers can walk on narrow streets to enjoy local foods, experience culture and explore the beauty of the Old Quarter of Hanoi. Guests can also explore Halong Bay - A Natural Heritage recognized by UNESCO with more than a thousand limestone peaks soaring from its crystalline emerald water and overnight luxury traditional vessels with super deals.
Why Hanoi – Halong Bay 4 days/3 nights package tour is the best choice with only $295/person. Travelers will explore the beauty of Hanoi – the capital of Vietnam such as Old Quarter with its ancient local houses, narrow streets, bustling shops and local restaurants and then enjoy sightseeing at Hoan Kiem Lake including Ngoc Son temple. Travelers also experience local cuisine and taste some of the best street food like grill pork noodle (bun cha), beef noodle (Pho Bo), nail noodle (bun oc)… and more around Hoan Kiem Lake and Old Quarter.
The highlight trip, travelers are going to discover Halong Bay from 170 km from northeast of Hanoi - A Natural Heritage site recognized by UNESCO with more than a thousand limestone peaks soaring from its crystalline emerald water. Then they can cruise to explore hidden caves, lagoons, unspoiled beaches, floating fishing villages and talk with local fish men before enjoying dinner and staying on the luxury traditional junks of Indochina Sails.
Holiday Indochina and Active Travel Asia co-operate with Indochina Sails and Mercure La Gare to guarantee the best rates which can be offered to travelers who plan to discover Vietnam and other countries like Cambodia, Laos and Myanmar this summer 2014.
How to reach this Super Promotion:
Summer Promotion page at: http://promotion.activetravel.asia/
Holiday Indochina Ltd, Co
Hotline: 84-90 224 3637
Or email: info@activetravel.asia or sales@holidayindochina.com
Add: Level 3, 61 Xa Dan, Dong Da district, Hanoi, Vietnam
Tel: +84-43-633-9576 (ext: 201) / Fax: +84-43-972-7517
Note: This promotion is valid from Apr 01, 2014 to Sept 30, 2014
The promotion provides all the travelers new and real experiences in discovering Vietnam with the best-price for summer vacation. ATA and HIT have many choices for travelers to choose from.
Other Promotions
Please refer to Active Travel Asia and Holiday Indochina website for reference
Active Travel Vietnam
- www.activetravelvietnam.com/tour.php
Active Travel Cambodia - www.activetravelcambodia.com/tour.php
Active Travel Laos - www.activetravellaos.com/tour.php
Active Travel Myanmar - activetravelmyanmar.com/myanmar-adventure-tours.html
Vietnam Tours - www.vietnamtour.com/
Myanmar Tours - www.myanmartour.com/
- Discount up to 20% off package tours.
- Free 01 night hotel for two people (shared room) – only apply for Vietnam, Laos and Cambodia
- Free Visa approval letter and airport pick-up or drop off (one way) – only apply for Hanoi and Ho Chi Minh city in Vietnam
- Free Visa approval letter and airport pick-up or drop off (one way) – only apply for Hanoi and Ho Chi Minh city in Vietnam