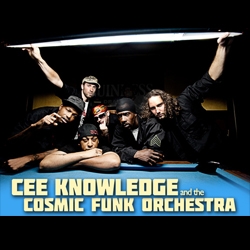 Philadelphia, PA, March 26, 2014 --(
PR.com
)-- Available now: The new single, "Bandits" from Cee Knowledge & The Cosmic Funk Orchestra, a live instrument hip-hop band led by 'Cee Know the Doodlebug' of the Grammy award winning jazz-influenced rap group Digable Planets. CFO's new full length album, "To Life, Love, & Loot" is set to officially release in the Summer of 2014.
"Bandits" is CFO's reminder that we all have a 'bandit on the run' inside of us. Cee and his band create an ethereal sound blending both acoustic and electronic instruments, ghostly vocals, and authentic hip hop grit from the streets of Philly.
Stream on SoundCloud - https://soundcloud.com/ceeknowledge/bandits
iTunes Download- http://bit.ly/1ryeHbl
Single Release Date: 3/25/2014
Recent Press: Jump Magazine - Winter 2014 - "Still Cool Like Dat" http://bit.ly/1cSkpLy
Live Show Footage: http://youtu.be/tv7WPnLd4fw
Distributed by: BlingNot Media / The Orchard
For info contact: Kevon Glickman - kevon@blingnot.com
Artist's Facebook: http://on.fb.me/1goGYbz
Artist's Twitter: https://twitter.com/ceeknowledge
Artist's Website: http://cosmicfunkorchestra.com/
Cee Knowledge & The Cosmic Funk Orchestra is looking for your help in promoting the single by getting some love from music blogs, radio stations, magazine reviews, talent buyers, and music licensing opportunities for TV and film.
Thank you...To Life, Love, & Loot!
Peace! - Cee Knowledge & The Cosmic Funk Orchestra