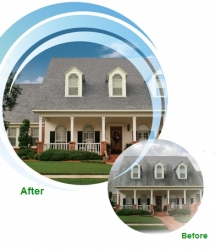 Havertown, PA, April 08, 2014 --(
PR.com
)-- Roof Cleaning Plus, Inc. anticipates increased sales as a result of prolonged bad weather. Due to the inclement weather faced by home owners in the Northeast portion of the country, many homeowners delayed putting their homes on the market. According to the National Association of Realtors there will be a significant upswing this spring. The low mortgage rates and increase in inventory has created a promising forecast.
"Curb appeal is more important than ever," said Justin Leader. The single most important thing you can do to improve the curb appeal of your home is to have your roof cleaned by a professional roof cleaning contractor. Just as the kitchen is the heart of any home, the roof is the centerpiece or focal point of the exterior. If you are selling your home, a dirty roof is definitely the first thing a potential buyer will notice when they come to look at the house. As they pull up and get out of the car, it is right there in all its glory for them to see. With the increased competition it is more important than ever to have the best curb appeal ever.
Roof Cleaning Plus, Inc. continues to work with local realtors, investors and stagers to provide education about the benefits of roof cleaning—prolong roof life and increase curb appeal.
Headquartered in Havertown, PA Roof Cleaning Plus, Inc. has been in business since 2005 and is considered one of the area's leading experts in roof cleaning services. They maintain contractor registrations in both Pennsylvania and New Jersey (#052119, #270865118 respectively).