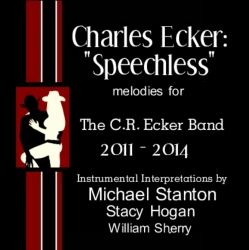 Los Angeles, CA, April 07, 2014 --(
PR.com
)-- Charles Ecker started his walk along the dusty country music trail as a member of The Los Angeles Songwriter's Showcase, and was fortunate to be mentored by some of the best in the business, including Sam Brown, Michael Jackson's songwriting coach. A significant benchmark in his journey is represented by "Charles Ecker: Speechless."
Notes music writer Danno Giovanni, "Discounting Karaoke albums and bands such as The O'Neill Brothers, who do covers of existing hits by other performers, there are no other recent original country instrumental albums at play. This is another reason why Charles Ecker: "Speechless" is such a refreshing addition to the modern country scene."
It all shows up in the delightful melodies Ecker has crafted while leading The C.R. Ecker Band to many awards, positive media reviews, and other favorable signposts of recognition.
So others suggested to him that it was time to memorialize a sampler of his melodies with instrumental interpretations of nine songs, one, interestingly enough, covered twice in this album - his 'signature song,' "Your Smile Says it All."
The set leads with Michael Stanton's 2014 take on this beautiful love song and ends with Stacy Hogan's version from two years earlier. Because all artists on this L.P. were given free reign to interpret Ecker's melodies, the two "Smile" variations are much different. And in keeping with Ecker's desire that no two songs sound alike in any or all of The C.R. Ecker Band catalog, there is a crispness and freshness in all ten diverse compositions.
After the initial "Smile" lead-in, Stanton does a playful instrumental rendition, with tweaks and trills, of The Independent Music Network #1 hit "No Turnin' Back" which, in full form, is a testimonial to enduring love. This is followed with Stacy Hogan's brash and sassy "Whisper Sweet Nothins," taken instrumentally from the 2013 multi-genre "Song of the Year" at Starliner's Europe (The Starliners Radio Network) and the first band #1 song at IMN's Top 30 Country Countdown.
Next up is Stanton's warm and tender "I Believe in You," which was, in words and music, all about a woman's trust and adoration in a man, followed, again by this legend among California musicians and producers, with the only acoustic song in the mix, a cover of the 2013 IMN chart-topper, "When God Created You." In that full version, a man tells why he has strong a love for his woman, through vivid and creative lyrics.
Hogan then comes back with "My Dear Lord," the sole Christian song in the set. What is most interesting to note about this composition is that it was written after Ecker suffered a stroke in the Summer of 2012 followed two months later with severe head injuries sustained in an accident. To him, this song, which won "Best Christian Song" at the 2013 Hollywood Music in Media Awards, was written to "thank the Lord," as he told the audience from the stage, "for allowing me to remain on this earth to continue my passion for music." ("My Dear Lord" has been nominated, by the way, for "Best Country Song" at the 2014 Los Angeles Music Awards, a testament to its strength as both a Christian and country piece.)
Stanton returns with a song about regret, in this case, a man wandering to the other side of the fence, realizing his mistakes, then coming back to the woman in his life because "Our Fence Needs Mendin'. Here, Stanton''s guitar virtuoso abilities remain strong and steady at center stage.
Following is another piece, about lament, with Stanton's soft musicianship conveying the loss felt by a man who wishes his lover would, or could, return to him. What he simply asks in the original vocal version is for "One More Night with You."
The ninth song in the mix is stylistically much different than all the others. "Up on My Luck" is being done in response to fan interest in Ecker doing a more late 60s/early 70s style 'roadhouse' tune. So this instrumental mix, somewhat harkening back to the Duane Eddy style of that period, is vastly different in William Sherry's "band jam" with a blatty saxophone featured to add a grit and edge to the song laid over some pretty grumpy guitars.
And finally, full circle to the lushness of "Your Smile Says it All," one more time. Although this staging performed by Hogan is entirely differently than Stanton's, Ecker wanted to buck convention and include two versions of this song he wrote for his wife so they could dance to it on their wedding day. So what you have to listen to are two separate country castings of an original song (out of circulation) first performed in 1987. And you will be simply amazed at how the Stanton and Hogan interpretations are so distinctly varied.
Says Giovanni: "This album represents a significant country instrumental foray in 2014 and perhaps beyond. "