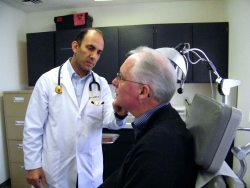 Riverside, CA, April 17, 2014 --(
PR.com
)-- Dr. Sam Sannoufi, M.D., has extended his family practice to include walk-in urgent care and fulfill the immediate needs of the Riverside patient community. Family Practice Clinic & Walk-In Urgent Care,
www.riversidefamilypracticeclinic.com
, conveniently located on Brockton between Arlington and Central Avenues, requires no appointments and will also be open most Saturdays.
At Family Practice Clinic & Walk-In Urgent Care, Dr. Sannoufi is on-site everyday and the staff treats everything from the common cold to minor lacerations with timely and compassionate care. Appointments are never needed and they are able to treat most patients in 30 minutes or less, often in just 15 to 20 minutes. Their facility offers adjacent laboratory testing and can provide travel vaccines for maximum convenience.
Most insurance plans are accepted, including Aetna, Blue Cross Blue Shield, Cigna, Health Net, Medicare, PrimeCare and United Health Care. They will also be accepting Inland Empire Health Plan, TRICARE and Vantage within the next few weeks.
About Dr. Sam Sannoufi, M.D.
Dr. Sam Sannoufi, M.D. is board-certified by The American Board of Family Medicine and has extensive clinical experience in providing care from a "whole person" perspective. He strives to balance traditional medical care with recreation, physical activity and nutrition, in order to help patients reach their healthiest potential.
Dr. Sannoufi has been practicing family and emergency medicine for nearly two decades. He is an internationally recognized consulting physician on the subjects of preventative health and urgent care. Dr. Sannoufi completed his residency training at the University of Nebraska Medical Center, and earned his medical degree from National Medical University in Kiev.
Dr. Sannoufi is very active in the Southern California community and has been recognized for his community work both domestically and internationally.
Family Practice Clinic & Walk-In Urgent Care
Dr. Sam Sannoufi, M.D.
6900 Brockton Ave, Suite 11
Riverside, CA 92506
(951) 682-6263 telephone
(951) 682-0114 facsimile