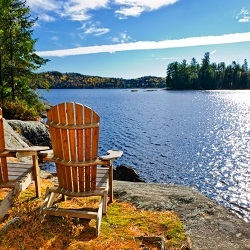 Mansfield, MA, April 18, 2014 --(
PR.com
)-- Hopeful buyers fantasizing of starting a new lifestyle on the water no longer have to struggle to find their dream lakefront property. The latest version of LakefrontLiving.com (v6.0) focuses on listing every direct lakefront property in New England from the entire MLS system in each state. Thousands of direct lakefront homes, buildable lakefront lots and even long-term lakefront rentals are displayed with full details and photos.
"Buyers used to spend an average of 3.5 hours on the internet searching for direct lakefront homes on a specific lake," said Scott Freerksen, Owner/Broker of Lakefront Living Realty, LLC, "they can now accomplish the same search in 15 seconds."
The site also provides the details of over 1400 lakes in New England. It's the only site of its kind outlining specific lake details in multiple states such as acreage, depth, water quality, weed & fish count, boating restrictions, public access and shoreline development.
"The key concept to remember is that you are not only buying a home, you are buying a lake," said Annie Lorenz, Lakefront Special Agent at Lakefront Living Realty, "so the specific details of that lake become incredibly important if the buyer wants to enjoy their new lifestyle."
The site currently lists over $800 million in direct lakefront inventory. By the middle of summer, it will top just over $1 billion. You can find everything from a $100,000 lakefront summer camps to $20,000,000 luxury waterfront dream properties. Four of the New England states are represented: Massachusetts, Rhode Island, New Hampshire and Connecticut…with Maine and Vermont coming by the end 2014.
"Buyers tend to have very specific and personal reasons for wanting lakefront property," says Freerksen, "it's more than just a roof over their head, it's a lifestyle choice providing a higher quality of life and personal connections. Our buyers talk about wanting a transcendent connection to their place of living. Some use the word spiritual, others say it's just another step toward true happiness."
About Lakefront Living Realty, LLC
Based in Mansfield, Massachusetts, Lakefront Living Realty, LLC is a full service real estate brokerage specializing solely on the purchase and sale of direct lakefront property in New England. Owner Scott Freerksen "The Lake Guy," a Real Estate Broker and Realtor, founded Lakefrontliving.com in 2003 as way to passionately unite buyers and sellers of direct New England lakefront property. For complete information, please visit
www.LakefrontLiving.com
, call Scott at 508-377-7167 or e-mail at info@lakefrontliving.com.