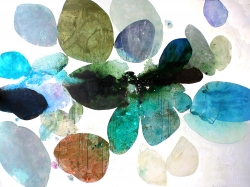 Houston, TX, April 19, 2014 --(
PR.com
)-- Laura Rathe Fine Art Presents New Abstract Paintings by Meredith Pardue In Houston, TX
Acclaimed Houston gallery, Laura Rathe Fine Art, announces the exhibition, "Stardust to Stardust," presenting the newest series of abstract paintings by Meredith Pardue, with an opening reception on Saturday, May 3rd, 2014, from 6 - 9pm.
The "Stardust to Stardust" collection will be on view through May 31, 2014.
About The Artist
Meredith Pardue is back in Houston for her fifth solo show at LRFA. Known for vivid color juxtaposed to white negative space, her canvases express energy as well as a sense of calm. At an early age Pardue wanted to be an artist, which led her to study painting at Savannah College of Art and Design (SCAD) and subsequently at Parson School of Design where she received her M.F.A. in 2003.
With oil, ink and oil crayon, Pardue creates rich color and texture that exude her love of nature, especially the physical beauty of her native Louisiana. In describing her technique she says, "I combine random acts of painting with controlled, deliberate mark making to describe each form in my work, which often appears floral or plantlike in structure. The canvases are composed of organic forms that are similar to and possibly even derivative of those found in nature, but ultimately the paintings are a visual record of an unplanned dialog between myself and a blank canvas. Together the marks and forms create a visual language that reads as something unique to each viewer."
Since one of her first exhibitions at the Levee Gallery, Monroe, LA, in 1998, Pardue has had countless solo shows in Texas, New York, California and Louisiana, as well as regular inclusion in group exhibitions. Her work has been featured a variety of art and design magazines, including Art Ltd, Professional Artist, and Architectural Digest and she is represented in the collections of JCrew Corporate Headquarters, Genstar Capitol, The Michael and Susan Dell Foundation and BBVA Compass.
About Laura Rathe Fine Art
Formally established in 1998, Laura Rathe Fine Art represents a dynamic artist roster including emerging, mid-career, as well as blue-chip contemporary artists. With a primary focus on abstract expressionist painters, LRFA also represents diverse sculptors, mixed media artists, and photographers.
Located in the heart of the gallery and design districts of Houston and Dallas, Texas, LRFA provides art consultation services, hosts exhibitions and actively participates in notable art fairs. Working closely with private and public collectors, LRFA artists have been acquired into world-renowned corporate art collections, including BBVA Compass and HKS Architects Headquarters.
Laura Rathe Fine Art
2707 Colquitt St
Houston, TX 77098
Meredith Pardue: Stardust to Stardust
For additional information, details or to schedule an interview, please contact Hannah Reuter, Assistant Director Hannah@LauraRathe.com &/or 713.527.7700