Celebrity Masterminds Launches Insurance Program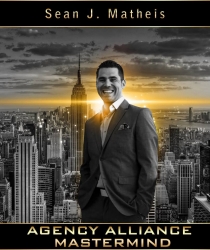 Dallas, TX, April 19, 2014 --(
PR.com
)-- Sean Matheis Co-Founder of The Millionaire Masterminds has launched a 90 day insurance mastermind program to share his secrets to success with top insurance agents around the US. Prior to starting The Millionaire Masterminds Sean was a nationally recognized insurance agent for a top 5 carrier. Sean has designed a 90 day mastermind program to share exactly how he was able to rise to the top from the very beginning.
Sean was named Rookie of the year his very first year in the insurance business outselling over 1,000 rookie agents across the country. His success only continued as he grew his agency every single year in the business. After launching several mastermind courses with top celebrities Sean has decided to share his success model with insurance agents across the nation.
This 90 day mastermind program has taken the industry by storm and is revolutionizing the way insurance agents are trained. The 90 day program is called The Agency Alliance and is touted as the most elite sales and marketing programs to ever hit the insurance industry.
Sean has had the opportunity to work with some of the biggest names in business, real estate, banking, sales, and insurance since the launch of The Millionaire Masterminds. Now he is sharing all of the knowledge he has gained to help insurance agents turn their business around in just 90 days.
You can find out more information about the program at
www.sellingwithsean.com
Contact
The Millionaire Masterminds
Sean Matheis
1-888-322-0009
www.themilliondollarmasterminds.com

Contact