Rockland County Builder Marks 30th Anniversary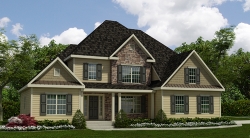 Pearl River, NY, April 22, 2014 --(
PR.com
)-- The Carteret Group, an award-winning home builder headquartered in Rockland County, NY recently celebrated two milestones: the company's 30th anniversary and a strong sales volume for 2013 in their multi-generational neighborhood, Woodbury Junction, located in Central Valley, NY.
Surrounded by 120 acres of pristine parkland in Orange County, NY, Woodbury Junction is a gated neighborhood incorporating two specific communities: Palisades Ridge offers resort like amenities for families of all ages and Kensington Station is designed with active adult homes for those 55 and better.
With 30 years of building experience and countless projects under his belt, William Brodsky, CEO of The Carteret Group, brings his relentless attention to detail and craftsmanship to every home that breaks ground in Woodbury Junction. "We wanted to create a community that offered homebuyers the feeling of small town living with all the benefits of a gated community," says Brodsky. "We knew that we could deliver a new home of unparalleled value to families of all ages without sacrificing design and open space. These are distinctive custom properties that are perfect for someone that wants to experience the best of what Hudson Valley living has to offer – whether they are active adults or a new family just starting out."
Since 1984, Brodsky has been committed to creating exceptional neighborhoods unmatched in quality as well as architectural charm throughout the greater Hudson Valley. "As a local builder, we are able to respond to the needs of our customers quickly and effectively. It's that simple. If a homebuyer want to change something to accommodate their lifestyle or design preference, we can work with them even if goes beyond the standard list of options," explains Brodsky. "We are proud of the commitment we make to our customers, our community and our industry. Woodbury Junction is a wonderful place to celebrate my 30th anniversary in an industry that I truly love."
The public response to the new homes being constructed at Woodbury Junction has been overwhelming and is clearly reflected in their sales. "We are excited at the interest being generated by the homes at Woodbury Junction," said Theresa Budich, Sales Manager of Woodbury Junction and REALTOR with Better Homes and Gardens Rand Realty. "We closed out 2012 and 2013 with double-digit sales and the first quarter of 2014 surpassed the previous two years. In addition to our closings, we continue to see an increase in visitors every week. I can't imagine anyone with the preference for a single family detached home not giving serious consideration to living here as opposed to a townhome development that is likely to be in a similar price range."
Once complete, Woodbury Junction will have 320 new homes in the Palisades Ridge neighborhood and 130 new homes in the Kensington Station community. Recently, over 40 new home sites have been released for preview in the Palisades Ridge neighborhood of Woodbury Junction. This phase of new construction features four-bedroom and five-bedroom competitively priced single-family homes with open floor plans offering plenty of living space: upscale bathrooms, gourmet kitchens, great rooms, studies, second floor laundries and other features. There are still home sites available that offer stunning panoramic views of the Hudson Valley while many of the other sites in this phase have backyards wooded with mature trees.
The Carteret Group efforts not only promotes energy-efficient home building, but also energy conservation among homeowners. All homes feature optimized HVAC systems, tight building envelopes, energy efficient windows, high efficiency toilets and faucets, ENERGY STAR(R) appliances and other technologies designed to conserve energy. Home buyers can customize to their individual style when selecting from an array of options for tile, carpet, cabinetry and granite countertops. In addition, Woodbury Junction provides residents with resort-style recreation for the young and young at heart. All homeowners will be able to enjoy neighborhood amenities offered by Woodbury Junction, including clubhouse with pool, tennis/basketball courts, and hiking trails as well as be a resident member of the parks and recreation system of Monroe-Woodbury.
There is little doubt that this beautiful commuter-friendly neighborhood will continue to grow and increase in value in the future; so for those who have dreamed of owning a home in this highly sought after region of New York, now is the perfect time to visit Woodbury Junction. With over six impressive, single family home plans available in each neighborhood, Woodbury Junction can accommodate even the most selective of home buyers.
In addition to Woodbury Junction's location in the award-winning Monroe Woodbury School District, the community is only 60 minutes from NYC. Woodbury Junction is close to commuter train and bus stations, major roadways, state parks, golf courses, schools and shopping. Discover Woodbury Junction's unique sense of community for yourself by calling the neighborhood's sales manager, Theresa Budich at 1.800.697.0028 or to view floor plans, please visit www.thewoodburyjunction.com.
The Carteret Group
The Carteret Group was founded in 1984 by CEO William Brodsky with a mission to create homes with outstanding quality, value and appeal within the highly desired communities of Orange and Rockland Counties. Now, with over 30 years of real estate experience, Mr. Brodsky has unveiled his newest venture and signature community, Woodbury Junction, a community where two great lifestyles come together in one superior location.
Contact
Woodbury Junction
Christine Brodsky
845 323 6660
www.woodburyjunction.com

Contact