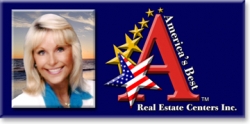 Naples, FL, October 08, 2007 --(
PR.com
)-- According to a survey taken by the California Association of Realtors in 2006, one out of every 4 homes is bought or sold over the Internet. The National Association of Realtors® said that more than 84% of home buyers and sellers go to the Internet to search for their home or their real estate agent. For real estate agents across America, the bell has tolled.
The National Association of Realtors reported that close to 80% of home buyers and sellers research the Internet before they ever call a Realtor.
Bill Gates said "If you are not on the Internet you are not in Business."
As more real estate is bought and sold on the Internet, more real estate agents need to have an online presence, but having a website is not enough. With close to 2 million Realtors® in America, it is important to be branded as one of America's Best Real Estate Agents. America's Best Real Estate Center can provide the marketing tools to help individual real estate agents stand out in the crowd, including building an easy-to-use, cost-effective, dynamic, and informative web site in less than an hour.
Ginny Lee, CRS, GRI, RECS, ABA, Realtor®, and Cyberspace Guru who is in the top 1% of real estate agents nationwide said, "I have consistently sold more than $10 million worth of Real Estate from Internet leads for the last three years. The Internet is the most cost-effective advertising that I have ever done. With over one million Realtors® in the National Association of Realtors®, you have to get an edge on the market to truly succeed."
Ginny Lee created America's Best
to help other real estate agents find the right tools to be more successful. America's Best Real Estate Center not only helps buyers and sellers find and buy homes it also shows Realtors® many valuable tips and tricks, including how to:
* Create and manage a dynamic real estate website * Get high-quality leads free from the website with superior Internet marketing tools * Network with other top real estate agents * Brand themselves as America's Best Real Estate Agents. They even give
Realtors free websites and Great Marketing Tools
.
Real estate agents who are ready to gain exposure for their business and become known as one of "
America's Best Agents
" can enroll with America's Best Real Estate Center now at www.AmericaRealEstateCenter.com for less than the cost of a newspaper ad. Further information is also available by calling toll-free at 1-800-683-9997.
About
America's Best Real Estate
:
America's Best Real Estate Center and their Real Estate Ambassadors have more than 30 years of dynamic real estate marketing and selling experience. They provide the most cost-effective marketing tools to help real estate agents find more home buyers and sellers with the use of cost effective Web Sites, Virtual Tours, Marketing Tools, Mortgages, Print Advertising in Millionaire Magazine, Brochures, Mail Outs, and all other Real Estate-related services and programs, all in one easy-to-use virtual office. It is the "One Stop" Virtual Real Estate Office.
(To Find Out More Click Here)
###