Angry Horse Brewing, a Start-Up Brewery and Taproom in Montebello, California
Support Angry Horse Brewing, a new brewery and taproom in the city of Montebello, California and help them open their doors.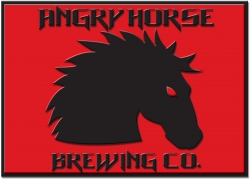 Montebello, CA, April 24, 2014 --(
PR.com
)-- Heard about Angry Horse Brewing yet? They're a start-up craft brewery in Montebello, California and they're all for craft beer, their community, and horses (angry or not). Angry Horse was founded by Gayle Michel, Luis Michel, and Nathan Sewell, three good friends who are passionate about bringing locally-made craft beer to the community of East Los Angeles, Southern California, and hopefully soon, if there is enough support, to areas outside California. Angry Horse Brewing, with their "pay-it-forward" motto, promises to give back to their local community and the surrounding eastern Los Angeles area through participation in various philanthropic and community-driven programs, including a local horse rescue.
Angry Horse brewer Luis, a native Angelino, grew up in East Los Angeles. He has seen the area's ups and downs. Luis's mission is to give back to his community and to put Montebello and East LA on the craft brewing map.
Gayle, an Illinois native, is what most would call a "serial entrepreneur." Gayle, Luis's wife, started her first business at the age of eighteen. Growing up in rural Illinois, Gayle owned horses. This is why she is so passionate about rescuing horses and giving them a good home today. A portion of Angry Horse Brewing's proceeds will even to support a non-profit that rescues horses in the Los Angeles area. Gayle is also a proud member of the Pink Boots Society, an organization created to empower women beer professionals to advance their careers in the beer industry through education.
Nathan, a Wisconsin native, is the recipe guy of the group. He shares Luis and Gayle's passion for going back to the community, and he is personally invested in developing recipes that the community will enjoy. Some of Angry Horse's beers include their take on a Mexican amber lager, a chocolate stout, a West-Coast style amber ale, and a West Coast IPA.
Luis, Nathan, and Gayle are also proud members of the Yeastside Brewers, a group of like-minded homebrewers located in northeastern Los Angeles. Luis currently holds the position of vice president, and Gayle is treasurer. The Yeastside Brewers primary concerns are the exploration and production of fantastic beers as well as involvement and sharing with the community in which they live.
Angry Horse is looking for supporters and investors to help get their doors open, so they can share their brews with southern California, and eventually the rest of the country. They need your help with their upcoming Indiegogo fundraiser, which launches on May 12th. Perks for the crowd funding campaign's donors will include all sorts of gear, as well as some limited-time-only items such as brewing with the Angry Horse crew, or the opportunity to have a beer style of your choice brewed at Angry Horse and served to the public. Visit their website, Twitter and Facebook pages (links below), and sign up for email alerts to stay on top of upcoming Angry Horse events. Please help Angry Horse Brewing spread the word about their upcoming Indiegogo campaign. To those who like craft beer, rescuing horses, or giving back to local communities— please show support!
A little about Angry Horse:
It would be very hard to find anyone that works harder than the workhorses at Angry Horse Brewing. Still in its developmental stages, this three-person crew wants put to put the area east of Los Angeles on the craft beer revolution map. The Angry Horse team recognizes the rising demand by people who enjoy socializing and conducting commerce for a facility that offers locally-produced, hand-crafted beer. Angry Horse Brewing will benefit the community by bringing commerce and excitement back to Montebello and east LA County.
With a focus on West-Coast style while drawing from global brewing traditions, Angry Horse Brewing creates inspired beers.
Angry Horse Brewing - Brewing hand crafted beer for the community!
Please visit http://angryhorse.launchrock.com to sign up for email alerts
Visit their website at http://www.angryhorsebrewing.com
Facebook: https://www.facebook.com/angryhorse.brewingco
Twitter: @weangryhorse
Contact
Angry Horse Brewing
Gayle Michel
323-721-0582
www.angryhorsebrewing.com

Contact