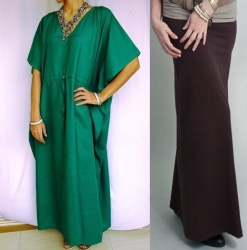 El Cerrito, CA, May 05, 2014 --(
PR.com
)-- A special sharing of fashion insights.
If you're into fashion, you won't want to miss this.
Long sleeves, low hemlines, flowing fabrics; crowned by a hijab or headscarf, are being cast into trending fashion focus by designers, bloggers and stylists.
Bring your personal fashion sense to be part of trending focus. Hear expert opinions on graceful attire and fine accessories.
A valuable opportunity to meet, learn and express your personal fashion insights.
At AnNisa Designs they realize that as spirit emerges to create ambiance, ambiance brings a quiet stance to each individual aspect.
Within this quiet stance the mark of this franchise is to seek unique fashion that graces your personal aspect.
AnNisa Designs was founded as an online fashion franchise in May of 2008. From that moment they have researched select designs and trend choices to assist women who cover in affordably defining and accentuating their personal expression.
AnNisa Designs' small franchise retails attire from various respected manufacturers. Soon they expect to also provide style contributions from local designers, as well as opportunities for you to customize and create your own style with the aid of their seamstress.
Inventory includes abayas, tunics, skirts, pants, hijabs, hijab pins, earrings, leisure wear, outerwear, and various accessories.
Browse the online store at
www.annisadesigns.com
to discover their fashion concepts. AnNisa Designs believes you will like their select designs.
On Friday, May 16th don't forget to be front and center for Fashion Concepts with Women Who Cover.
"I am excited to share our vision with you in this online forum. We look forward to seeing you there," says Margaret Hasan, owner of AnNisa Designs. "Bring a guest."
RSVP thru the website
Email inquiries to:
annisadesigns@gmail.com
Login to the Forum here:
https://www.anymeeting.com/080-785-139
Forum by
Margaret Hasan