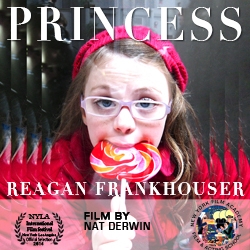 New York, NY, April 28, 2014 --(
PR.com
)-- Princess is a tale of mothers, daughters, and manicures.
Join Princess on her girl's day out with her overachieving mother. Pull back the curtain and discover what those Chinese Manicurists are really saying about you. Although Princess lives in affluence, her over achieving and philandering parents have no time for her. Meanwhile, Chinese teenager slaves away in her mother's nail salon, dreaming of a life she's seen in fashion magazines. While one of these girls must work for her mother's approval, the other must scheme for it.
Princess is a Comedy-Drama centered on a Mother and Daughter day on the town. Princess, a nine year old, mesmerized by a candy display in a store window. Her Mother angrily barks orders into a cell-phone. Princess wants a cake, but Mother whisks her away for a "Mother Daughter Manicure" instead. To the Asian salon, where a mother/daughter/team awaits. After settling in, Princess, with series of tricks, trying to get her Mothers attention. Failing to receive it, princess decides to revel a secret: Daddy's having an affair with the maid. Mother jumps up and intent on confronting Rosanna, but sees the bond between manicurists Mother and daughter team, she changes her mind. She tells her driver Ramon to take them to the Plaza, and Princess to her ice cream.
Writer/ Director Nat Derwin takes us on a funny and touching journey into our greatest fear… our relationship with our Mothers. Be mesmerized by the work of the director and actresses Reagan Frankhouser as Princess and Amanda Gabbard as Mother. With a score written by composer Bernadette Choy and brilliantly preformed by the Beijing Opera diva Hong Wah. 
Nat Derwin has once again created celluloid magic, as she did with Bradley – Best Foreign Film Winner at AFI World Peace Initiative Film Festival at East Hampton New York, as well as an Official selection at the London International Film Festival and the Southampton UK International Film Festival. 

With Princess, Nat Derwin takes on a comical and touching journey into the relationships that mould us. Director tackles our most challenging relationship of all…. our relationship with our mothers.
Princess - World Premier
May 10th, 2014 at 12:00 pm 

Manhattan, Producers Club - 358 W 44th St. NYC
2014 NYLA International Film Festival - Official selection