Song-e Yoon's First Solo Exhibition in New York
Solo Exhibition of Song-e Yoon "Essence" at New York Minded Gallery, May 10-24; Opening reception: Thursday May 10th, 5pm - 10pm; Location: NYMND, 38-82 13th Street, Long Island City, NY 11101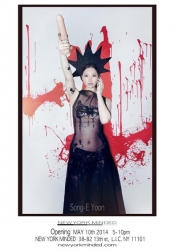 New York, NY, April 30, 2014 --(
PR.com
)-- The solo exhibition of Song-e Yoon under the theme of "Essence" will run from 10 to 24 May at New York Minded Gallery.
The show employs photos of a little shocking image to publicize and reflects objects of the photos in the installation and plane works. Based on the famous Buddhist phrase that form is nothing other than emptiness; emptiness is nothing other than form, it reminds that not all are visible and communication between human and nature is imperfect in essence.
Director of New York Minded Gallery Ronny Estella said, "The exhibit of Yoon is associated with 'Essence,' a sound installation featured in the Art Basel Miami curating project held last winter. It will demonstrate a refreshing but truly profound world by expressing the artist's unique oriental philosophy through modern materials," she added. She also noted that Song-e Yoon will be able to make a global debut through this first exhibition in North America although she has held a number of shows in Asia.
Meanwhile, encompassing various genres and emphasizing artistic experimentation, New York Minded Gallery is emerging as a leading gallery in New York that has identified creative young artists since its foundation in 2013.
The opening of the exhibition will be held 5 - 10p.m. on May 10 with a cocktail party starting at 6p.m. Visitors can join the event for free (RSVP).
For more information, visit newyorkminded.com or estrella.ronny@gmail.com.
38 – 82 13th Street
Long Island City, NY 11101
Songeyoon.org
newyorkminded.com
estrella.ronny@gmail.com
Contact
Art company songeyoon
Seohyun Kang
1-646-388-3928
Songeyoon.org
38 – 82 13th Street
Long Island City, NY 11101
newyorkminded.com
estrella.ronny@gmail.com

Contact