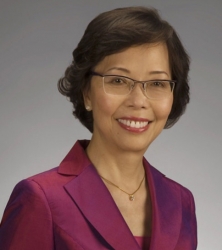 Washington, DC, June 09, 2014 --(
PR.com
)-- The National Capital Area Council (NCAC), Boy Scouts of America (BSA) will honor Susan Au Allen, National President & CEO, US Pan Asian American Chamber of Commerce as the "Woman of the Year" for 2014 at the 2014 Champions of Character Dinner on June 18, 2014. This award is to recognize Ms. Allen's outstanding service in supporting Scouting and Learning for Life opportunities for local youth.
Susan Au Allen came to the United States from Hong Kong on an invitation from the White House in recognition of her volunteer work for people with disabilities. She received her Juris Doctor from the Antioch School of Law and LL.M. in International Law from Georgetown University. During her 17 years with Paul Shearman Allen & Associates of Washington, DC and Hong Kong, she became nationally recognized for her work on immigration, international trade and investment. www.uspaacc.com
The dinner is open to the public and sponsorships are available at www.NCACBSA.org/champions. Proceeds from the dinner will benefit Scouting and Learning for Life programs for youth in the District of Columbia, including the campership program that helps Scouts attend summer camp. NCAC's Washington, D.C. District is providing Scouting and Learning for Life opportunities in all 8 wards through partnerships with local community organizations.
www.NCACBSA.org/champions