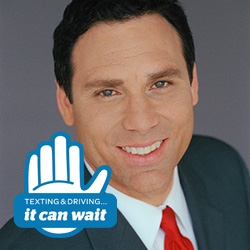 Houston, TX, June 24, 2014 --(
PR.com
)-- Among adult drivers, nearly half (49%) admit they text while behind the wheel. Only 43% of teen drivers admit the same behavior. Maybe teen drivers were not as forthcoming when responding to the AT&T survey, but it seems adults have surged ahead as behind-the-wheel texters. Either way, the numbers indicate that texting while driving "is not a young drivers' problem; it's an 'every driver' problem," suggests Garrison Wynn, a nationally known speaker and consultant specializing in workplace safety. He urges drivers of all ages to eliminate distractions: "Remind yourself, your colleagues, family members and friends that when you are behind the wheel, you have one task. You drive."
In a
new article and video clip
, Wynn suggests that texting or emailing behind the wheel is potentially more dangerous than driving under the influence. "Generally, a person who's impaired is at least trying to focus on driving correctly. The person's brain is inside the car, trying to survive the trip. If you're texting or emailing, your brain is out the window; mentally you are not in your vehicle!" he says.
Even those who say they text or answer emails only at stoplights have their thoughts partially engaged in their ongoing dialog. "Technology allows us to be in constant communication, which can be useful, but it produces in us a perceived need for immediate response," Wynn observes. "The truth is your dialog can wait."
Wynn has joined the movement against distracted driving (operating a vehicle while texting, answering emails, talking on the phone, etc.) because:
* distracted driving results in 387,000 injuries annually;
* nearly 10 people die each day from accidents involving distracted drivers;
* the root of the problem is the same as the cause of many workplace injuries – not being present in the moment; and
* deaths and injuries resulting from this lack of focus are preventable, with awareness and education.
Wynn speaks at safety conventions all over the country where the driving concern is to make high-risk jobs safer. "Some occupations, such as mining and rock blasting, carry much greater risk, so unfortunately a number of injuries or deaths is likely," he explains. "Deaths from crashes caused by texting drivers are entirely preventable."
Wynn urges drivers to join campaigns like AT&T's "
It Can Wait
" or OSHA's Distracted Driving Initiative, which aim to eliminate texting while driving.
About Garrison Wynn
Garrison Wynn, CSP, is a nationally known speaker, best-selling author, and chemical plant explosion survivor who has developed environmental safety products still being sold in 30 countries. As a former Fortune 500 leader and professional stand-up comedian, Wynn fuses smart humor and business expertise in keynotes and books, including his Amazon top seller The Real Truth About Success. His award-winning success tools receive high praise, but his greatest strength is a magnetic live performance that keeps him in high demand, with more than 100 speaking dates per year.