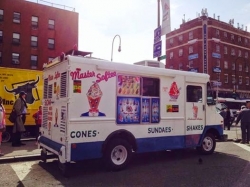 New York, NY, June 11, 2014 --(
PR.com
)-- On June 5, Mister Softee won a lawsuit against its former franchise owner, Dimitris Tsirkos, who operates in Manhattan and out of Long Island City. His ice cream truck vehicles were painted with a logo similar to that of the Mister Softee franchise.
North American Investigations
conducted a thorough investigation over the weekend in the locating and documenting of as many ice cream trucks using the logo 'Master Softee'. In total, 17 trucks were found throughout the Upper West Side, the Lower East Side and the West Village sections of New York City.
The private investigator in question mentioned by the
New York Daily news article
hired by the Mister Softee company was North American Investigations based out of New York City.
North American Investigations
(646) 616-0476
260 Madison Ave.
8th Floor
New York, NY 10016