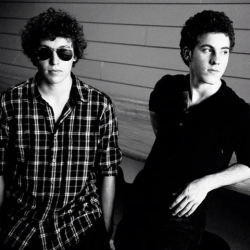 New York, NY, June 16, 2014 --(
PR.com
)-- Minor Soul, one of New York City's hottest new bands, has released its new single, "Charlie Chaplin," for download on iTunes, Amazon, and all other online music outlets.
Produced by the Grammy- and Emmy-winning Peter Zizzo (Avril Lavigne, Vanessa Carlton) and Michael Mangini (Baha Men, Joss Stone), "Charlie Chaplin" is yet another stand-out track by a band that has already won the attention of music-lovers and industry giants alike with their self-released album, "Home Is Where You Are."
Minor Soul's signature sound of acoustic guitars and sweet, harmonizing voices has earned them a growing reputation as their generation's response to Simon & Garfunkel. "Charlie Chaplin" strengthens that comparison with heartfelt lyrics and irresistible anthemic melodies that together weave a nostalgic story of a coffee-shop love.
Since moving to New York City from their hometown of Hong Kong, Jack and Max Wagner, two brothers of 21 and 19 respectively, have established a fast-growing fandom that goes by the name of "Minor Souldiers". With a burgeoning social media presence and frequent live performances at legendary NY venues like The Bitter End and Rockwood Music Hall, the brother duo are poised to make a very harmonized and honest entrance into today's popular music scene in the near future.
"Charlie Chaplin" is now available for download on iTunes for $0.99, or get it for free download at: http://minorsoul.bandcamp.com/
Stream "Charlie Chaplin" on their SoundCloud: https://soundcloud.com/minorsoul/charlie-chaplin
Band website: www.minorsoul.com
Facebook: www.facebook.com/minorsoul
Twitter: www.twitter.com/minorsoul
Instagram: www.instagram.com/minorsoul