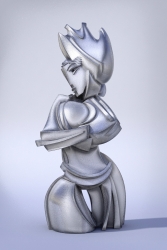 Houston, TX, June 14, 2014 --(
PR.com
)-- Laura Rathe Fine Art is pleased to present "Check Mate", a group exhibition featuring Gil Bruvel, with an opening on Saturday, July 12, 2014, from 6 - 9pm.
The "Check Mate" collection will be on view through August 29, 2014.
Gil Bruvel's new series of steel chess sculptures will debut in the Check Mate group show. These unique works convey the art of war and strategy through the game of chess. Bruvel's goal, by designing a thematic chess set, was to increase the sense of opposition between the two sides. As the design progressed, he also experienced a sense of fusion and complementarity between the two opposite sides. This theme relates to the evolution of styles and conceptions we have about what art means.
On one side, the world is perceived and expressed with recognizable elements we can reference to perceived reality - the representational world. On the other side, the world as we conceptualize it using arbitrary elements, is expressed with how we value the contexts in which we understand it - the abstract world. Some elements may still be recognizable but they are just there to suggest and let the viewer form their own conclusions.
Throughout his career, Bruvel has focused his energy on creating highly detailed surreal, representational work. Recently, he has challenged his artistic abilities by venturing into the world of the abstract. The creation of the chess set represents the challenge of meshing the past with the present genres and the pursuit of continuing to push the envelope in his creative journey.
Other artists exhibited include Tony Magar, Mel DeWees, Meredith Pardue, Roi James, Matt Devine, Christopher Martin, Katherine Houston, and Michael Schultheis, among others. The majority of these artists are established abstract expressionists working in oil, acrylic, encaustic, steel, photography and other mixed media.
About Laura Rathe Fine Art
Formally established in 1998, Laura Rathe Fine Art represents a dynamic artist roster including mid-career, as well as blue-chip contemporary artists. With a primary focus on abstract expressionist painters, LRFA also represents sculptors, mixed media artists, and photographers.
Located in the heart of the gallery and design districts of Houston and Dallas, Texas, LRFA provides art consultation services, hosts exhibitions and actively participates in notable art fairs. LRFA artists have been acquired into important private collections, as well as world-renowned corporate art collections, including BBVA Compass and HKS Architects Headquarters.
For additional information, details or to schedule an interview, please contact
Hannah Reuter, Assistant Director; Hannah@LauraRathe.com &/or 713.527.7700