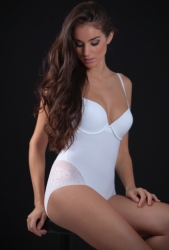 New York, NY, June 14, 2014 --(
PR.com
)-- With a staggering 93% of women that own spandex girdles and garments, shapewear is the one product that women hate to love. But lucky for us, this problem is now fixed: the European made, shapewear line called Babalette.
Shapeware can be a total godsend. It helps smooth everything out and give you that extra bit of confidence to wear a satin skirt or a body-hugging dress. But sometimes, the folks who manufacture shapewear get a little carried away.
After all, who doesn't remember when a renown star had to take her Spanx off at an award show because they were so painful.
Babalette, Inc. www.babalette.com is a revolutionizing shapewear line that solves all the problems of the existing shapewear brands in the market. It's genius designs are comfortable and made with patented breathable materials that will allow you to wear them all day long. "Even at the office", according to the testimonies of customers who have tried and love to Babalette.
What is more, its European designs go beyond shaping with a hugging comfort. The designs include seamless edges, attractive lace finishes, and even a butt lifting thong-effect.
A personal favorite is Babalette's Anti-Cellulite Collection, which is made of a patented fabric that contains tens of thousands of microcapsules with ingredients used to target cellulite like caffeine or anti-fatty acids.
So don't throw the towel and give up on shapewear quite yet, and get a hold of Babalette's sophisticated garments.
Babalette is now offering Free Shipping on orders of $75 or more.