AlgoTrades Quantitative Investing System Announces Its Approved for ROTH IRA Accounts
Investors can now grow their investment capital tax free with the AlgoTrades automated investing system.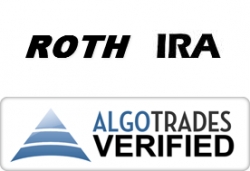 Collingwood, Ontario, Canada, August 12, 2014 --(
PR.com
)-- AlgoTrades.net is proud to announce that its
quantitative investing system
which is a 100% automated trading system that trades the S&P 500 Emini Futures is approved to trade in ROTH IRA accounts.
"The larger a ROTH IRA account grows the greater the potential tax benefit, vs the larger a traditional IRA grows the greater the potential tax. A great analogy is to think of a ROTH IRA getting taxed on the seed capital invested, while a traditional IRA gets taxed on the harvest or the total account size at the time funds are withdrawn," stated Chris Vermeulen, AlgoTrades CEO & Founder.
Recently AlgoTrades selected TheFOXGroup as their primary broker and support arm. This strategic relationship helped the firm in making their automated investing system available to individual investors with sheltered capital in a short period of time.
About AlgoTrades Systems:
AlgoTrades is intended for all investors; the new investor looking to make a first investment or the seasoned investor who has been trading for decades. It requires absolutely no work on the investor's part. All trades are executed automatically. Also, AlgoTrades adjusts protective stops and profit targets, uses advanced filters to monitor the market on a tick-by-tick basis carefully evaluating each entry, profit or loss, and stop placement level in real time. All of this analysis is done automatically, in the blink of an eye, so their clients can focus on the more important things in life.
The system, which launched on Feb 14th, 2014, has already filled 100% of its capacity for its ETF Investing System and has closed the system to new clients. They do have the same investing system for trading the ES mini futures. This automated trading system is currently accepting new clients.
AlgoTrades has earned the TOS certification (Trades Own System) from Collective2 a well-respected third party company that tracks automated trading systems and if the creator of a system is trading the system with their own capital.
The Collective2 firm tracks 323 futures trading systems has given AlgoTrades the TOS certification. Only 4 futures systems have earned the TOS certification out of the 323 systems available on the market today.
The investment strategy has been traded manually by the creator Chris Vermeulen for the past seven years and was converted into an automated investing system in 2013. It invests in the S&P 500 index though the use of ES mini futures.
Usually the automated investing system keeps its client's investment capital in a cash position. The high probability trading strategies used are geared toward minimizing market exposure and taking long/short positions only when a high probability of winning has been identified.
"This is an automated investing system that provides investors with an opportunity to invest alongside the founder, capitalizing on my entrepreneurial investment approach, trading strategies, money management skills and experience," stated Chris Vermeulen, AlgoTrades CEO.
AlgoTrades charges a fee of $2,499 for access to the automated investing system. $35,000 minimum investment capital is required.
About Technical Traders Ltd.:
AlgoTrades Systems, which is a wholly owned subsidiary of Technical Traders Ltd., was established in 2008 and offers a range of investment and swing trade alert newsletters.
This quantitative trading company offers investors an unique opportunity to participate in a leading company in the business of quantitative investing, low frequency trading systems "LFT," for a 100% hands-free investing experience.
Contact
AlgoTrades Systems
Chris Vermeulen
1-844-692-5468
www.AlgoTrades.net

Contact