Phoenix Home Care, Inc. Announces a New Location in Joplin, Missouri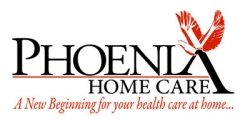 Joplin, MO, June 25, 2014 --(
PR.com
)-- Phoenix Home Care, Inc., announces a new location will open in the Joplin community on July 1st. The new office, located at 1027 S. Main St., Suite 308, will be the tenth office in Missouri for the Springfield-based company who recently celebrated their third year. The Joplin office will initially focus on Private Duty Nursing for children with specialized health care needs.
Phoenix is pleased to have a large workforce of Licensed Practical Nurses and Registered Nurses in Joplin and surrounding cities. They will continue recruiting high-quality, compassionate team members around the four-state area to administer care for new and existing clients. "With the new office we can expand our market and continue to provide great service and quality nurses to satisfy our clients' needs," said Machelle Farmer, Public Relations Manager of Phoenix Home Care.
"Opening a Phoenix Home Care office in Joplin is an important step toward supporting our growth," said Farmer. The new office will be one of the many changes the for the company in 2014. "With 1300 hours of service being delivered weekly in the four-state area and growing, Phoenix Home Care has become the premier provider of special needs services. With the exceptional care provided, clients continue to seek services from Phoenix Home Care."
Founded in 2011, Phoenix Home Care, Inc., is a leading Health Care agency born from a true desire to improve the quality of life for those we serve. The mission of Phoenix Home Care is to offer new beginnings and meaningful opportunities to caregivers and clinicians while providing home care services to our clients built on innovation, skill and Christ-like values of compassion, honesty and patience.
Phoenix Home Care has 12 office locations and serves communities throughout Missouri, Kansas, and Colorado. Phoenix provides Home Health Care services to those who desire to remain independent at home. Phoenix provides acute Skilled Nursing through Home Health Service; Private Duty Nursing to children and young adults with Special Need; Privately Paid Services such as nursing, nurse- aide or companion level assistance with activities of daily living from a few hours a day to around-the-clock care; state funded In-home services (homemaker chores, errands and shopping, personal care, education, med set-ups and reminders); Consumer Directed Service where Phoenix serves as a state vendor to provide administrative support services; and Hospice. Phoenix has more than 1,500 employees across the three states. Visit the Phoenix Home Care Career page to view current openings in Joplin and other offices: http://www.phoenixhomehc.com/career-center/
Contact
Phoenix Home Care
Machelle Farmer
417-881-7442
www.phoenixhomehc.com
Joplin office: 417-680-4000

Contact