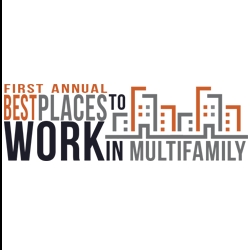 Temecula, CA, July 01, 2014 --(
PR.com
)-- The
Multifamily Talent Summit
, the Multifamily Industry's Leadership & Talent Strategies Summit, announced today that it will partner with Best Companies Group to determine the "Best Places to Work in Multifamily." This is the only nationwide competition of its kind, with the winning companies being recognized for creating outstanding workplaces. The ranking of the winners along with profiles and other the editorial features will be featured on MultifamilyJobs.com and celebrated at the annual Multifamily Talent Summit as well as in the national publication, Best Places to Work in Multifamily: Annual Report.
The goal of Multifamily Talent Summit's "Best Places to Work in Multifamily" is to identify and recognize employers who have succeeded in creating workplace cultures where employees love to come to work. The initiative is integral for the Multifamily Industry to compete in both local and national arenas. They urge you to consider nominating your company as one of this year's "Best Places to Work in Multifamily." Winners in other programs have said that, among other benefits, this prestigious award has increased the quality of their job applicants, heightened company pride, and increased their general marketing efforts. All participating companies receive their Employee Feedback Report, which allows participants to see their own employee survey results. Further, geographical and industry benchmarking reports are available to compare your own results with those of your peers.
The business environment of the 21st century is characterized, not just by competition and ever-increasing technologies, but also by a heightened appreciation for the quality of the workplace. In a world of continuously shrinking margins, a progressive human resources strategy is critical to creating and sustaining a competitive advantage. One measure of such strategies is the quality of the workplace experience. Indeed, the enhanced awareness of the importance of creating great workplaces is evidenced by the growing body of literature regarding workplace excellence.
Numerous studies show a strong correlation between profitability and creating a great place to work. In addition to the positive effect the award has on their employee relations and recruitment, the driving force for companies to participate is the remarkable effect that workplace improvements can have on their bottom line.
"We are pleased to team up with Best Companies Group as we launch 'Best Places to Work in Multifamily,'" said Multifamily Talent Summit Publisher, Patrick Antrim. "These exemplary organizations will not only have great benefits and salaries, but also cultures where associates feel connected to the organizations they work for. Multifamily leaders work hard and play hard, and in our opinion, a great company provides employees with the full package."
The selection process, conducted by Best Companies Group, is based on an assessment of the employers' policies and procedures combined with the results of a 76-question employee engagement and satisfaction survey. After the process is complete, all participating companies will receive an Employee Feedback and Participation Report which will include not only an Employer Summary Report presenting grouped averages about what companies are offering their employees, but also the Employee Demographic Report. That report is the analysis of your employee engagement and satisfaction survey data, broken down by demographic categories such as age, gender, department, and office location.
Don't wait to enter your organization as one of the "Best Places to Work in Multifamily!"
The deadline for registration in the Multifamily Talent Summit's "Best Places to Work in Multifamily" is October 31, 2014. Go to
www.BestPlacesToWorkMultifamily.com
to register and to learn more about the process, the survey tools, the valuable Employee Feedback Report, and how this program can help your organization grow.