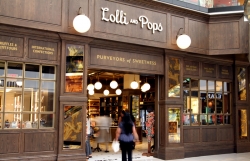 San Francisco, CA, July 01, 2014 --(
PR.com
)-- Lolli and Pops and Powell's Sweet Shoppe today announced their plans for Powell's Sweet Shoppe to merge with Lolli and Pops. Lolli and Pops currently has 7 stores under its namesake brand, and 12 stores under the Candyopolis brand. This merger will bring an additional 16 locations under the Lolli and Pops umbrella.
(photo: http://www.lolliandpops.com/images/storage/lolliandpops.jpg)
This transaction creates one of the leading candy store chains in the US, differentiated by its ability to enter markets with a 3-tiered approach. With a combined 35 stores and more coming, Lolli and Pops is looking to grow its portfolio of brands.
"Powell's Sweet Shoppe has always been a great brand, but we've been missing structure and resources. The merger with Lolli and Pops gives us the much needed resources to grow as a brand," says CEO of Powell's Sweet Shoppe Bear Silber, who will remain with the company as President of Powell's Sweet Shoppe.
(photo: http://www.lolliandpops.com/images/storage/powells.jpg)
"Both companies share the same vision when it comes to service, selection, and experience. Once we recognized that, it was a natural decision to combine forces," states Sid Gupta, CEO of Lolli and Pops, "we're very excited about the Powell's brand and the team of extremely passionate franchisees."
Through this merger Lolli and Pops will be better suited to enter new markets by choosing a brand which is ideal for the community. Together their plan is to offer exceptional customer service, an award-winning confection selection, and an experience unlike any other.
About Lolli and Pops
Founded in 2012, Lolli and Pops has a mission to magically share the wonder of candy with the community and the world. Headquartered in San Francisco, Lolli and Pops is a high-end purveyor of sweetness and confectionary treats offering more than 600 unique items in which to indulge. With stores in Texas, Illinois, Oklahoma, and California Lolli and Pops is quickly growing. Additional locations are planned for Maryland, Virginia, and Washington. For more information please visit www.lolliandpops.com or www.facebook.com/LolliandPops.
About Powell's Sweet Shoppe
Powell's Sweet Shoppe was founded in 2003 by Michael Powell in Windsor, CA with a mission to walk customers down memory lane and remind them of good things and good times. Currently there are stores in California, Oregon and Idaho. Powell's Sweet Shoppes carry all the candy from your childhood as well as gelato, soda and toys. The stores are wall-to-wall, floor-to-ceiling packed with sweets, color and fun. For more information please visit www.PowellsSweetShoppe.com or www.Facebook.com/PowellsSweetShoppe.
For more information on Lolli and Pops please contact:
press@lolliandpops.com or call (415) 445-4500
For more information on Powell's Sweet Shoppe please contact:
press@powellssweetshoppe.com or call (408) 357-0386.