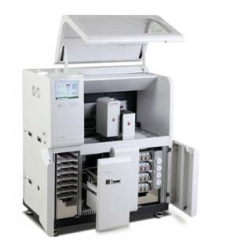 Yongin, Korea, South, July 03, 2014 --(
PR.com
)-- YD Diagnostics CORP. a leading developer, manufacturer and supplier of innovative diagnostics products dedicated to serving the healthcare of humans, announced today the launching of the new fully automated system for liquid based cytology solution for both Gyn and Non-Gyn.
YD's Easyprep maximizes the productivity of pathology labs by automating all the steps for preparing slides for liquid based Pap tests as well as Non-Gyn cytology. The residual cervical specimen in Easyprep preservative solution can be used for further HPV test with YD's REBA HPV-ID system which identifies 32 HPV genotypes.
"Our new Easyprep is part of YD's system for cervical cancer screening together with the REBA HPV-ID molecular diagnostic test kit which provides a high diagnostic accuracy," said Jason Kim, director of marketing division, YD Diagnostics CORP. "Laboratories can take advantage of preparing Gyn and Non-Gyn sample slides at the same run for enhancing lab's productivity. Also continuous sample loading capacity reduces hands-on time. Our Easyprep is designed to provide the medium and big volume laboratory access to the most efficient and effective liquid based cytology technology available in the market."
The Easyprep received a "Certificate of New Excellent Technology" by the Korean Ministry of Health & Welfare in December, 2013 for its automatic smearing technology using the sedimentation method. YD is going to exhibit this new Easyprep system in 2014 AACC in Chicago (June 30th-Aug. 1st), International HPV conference in Seattle (Aug. 22nd -24th), and 2014 Medica in Dusseldorf (Nov. 12th-15th).
YD also announced a European strategic partnership with Klinipath B.V. in Netherlands for the distribution, installation and training of the Easyprep system in 15 European countries including Benelux and all Scandinavian countries.
About REBA HPV-ID & Hybread480
MolecuTech REBA HPV-ID® is a Reverse Blot Hybridization Assay System for genotyping human papilloma virus (HPV) which is a causative pathogen of cervical cancer. HPV genotypes detectable by the MolecuTech HPV-ID® are the 18 high-risk HPV types (16/18/26/31/33/35/39/45/51/52/53/56/58/59/ 66/ 68/69/73),1 probable high-risk HPV types (34) and the 13 low-risk HPV types (6/11/32/40/42/43/ 44/54/70/72/81/84/87). Genetic target of the kit is a polymorphic L1 gene which is expressed at the late stage of infection cycles in the host cells, and the kit employs one-tube nested PCR and reverse blot hybridization assay (REBA). The Hybread480 is fully automated hybridization processor and reader for the strip based assay designed for the REBA HPV-ID test kit.
About YD Diagnostics CORP.
Founded in 1966 and headquartered in Yongin, GyeonggiDo, YD is a leading IVD company in Korea that develops, manufactures and distributes In Vitro Diagnostic products throughout the world. YD's core business units are clinical chemistry, molecular diagnostics and liquid based cytology. Easyprep, MolecuTech and Hybread489 are trademarks and registered trademark of YD Diagnostics CORP.
About Klinipath B.V.
Klinipath bv is a privately held company, which started its business in 1984 with a product-range specific for the histological, clinical chemistry and cytological laboratories. Klinipath operates primarily on Benelux basis and opened in 1991 a subsidiary in Belgium, particularly to serve this market.
The main office is located in Duiven (near Arnhem), the Netherlands