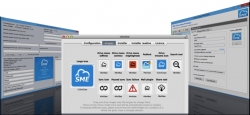 London, United Kingdom, July 10, 2014 --(
PR.com
)--
Storage Made Easy
announced that they have released cross platform branding "packagers" for Enterprise customers of their private
Enterprise File Share and Sync Solution
.
Jim Liddle CEO said, "We find Enterprise companies are very brand conscious with regards to the Applications they deploy. To that end we have made it easy for them to completely customize the web, mobile and desktop tools that they deploy as part of the SME private Enterprise File Share and Sync Solution."
Liddle continued, "We went a step further than just enabling customizations in that we provide mobile and desktop Application 'packagers' in which the companies can control not only branding but also which parts of the Apps are available and also which features they want their users to have access to. The end result is a customized setup executable, Mac package, or mobile application that can be deployed specifically to meet a companies needs. Companies can create feature rich and lighter version of their companies Apps and distribute them dependant on skill level, requirement and need."
Matt Adams from
ThinkOn
, The Canadian Cloud Provider which utilizes Storage Made Easy EFSS Solution said, "The packagers allow us to go beyond a "one size fits all" offering and gives our Enterprise customers a tailored solution that fits their business while identifying with their corporate brand."
The SME EFSS branding extends from the web through to Mac, Windows, and native mobile applications.
The packagers are available as part of a Storage Made Easy private Enterprise File Share and Sync Solution.
About Storage Made Easy:
Storage Made Easy is the trading name of Vehera LTD who has offices in the UK, USA and Switzerland. The SME solution allows IT to regain control of "cloud data sprawl" by unifying private/public company data and privately used employee cloud data solutions into a single converged infrastructure.
This can easily be managed and be used to set and enforce governance and audit controls for file access and sharing in addition to providing deep content search of indexed data. This approach provided a solution to the "shadow IT" conundrum and makes it possible for companies to find a balance between the protection of corporate data and employee data by allowing businesses to monitor, secure and audit all data silos, be they private or cloud or company or employee, from a single access point.
More information can be found at www.StorageMadeEasy.com