ABC Auto Shipping Expanding Into New States
ABC Auto Shipping initially only covered California, Arizona, Florida and Georgia. As part of their long term expansion plan, they are now moving into neighboring south and north Carolina, Oregon, Texas, Washington and from Seattle, WA to Anchorage, AK 99507 and vise versa.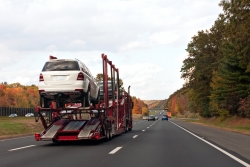 Irvine, CA, July 11, 2014 --(
PR.com
)-- Are you looking to ship a car in the near future? Maybe you should consider getting a quote from masters of the trade, ABC Auto Shipping. Everyone who has shipped with them couldn't hide their satisfaction. One of their main strengths is that you always have a variety of options to choose from when transporting your vehicles.
"I give ABC Auto Shipping a thumbs up," said an elated Ms. Harriet Rose, an actress/comic/writer. "I will be using them again the next time I move my car." One customer, Grace Ortega recounts how the company was recommended to her by a friend who had used them before. "They were extremely thorough in their explanations," reports an elated Ms. Ortega. Right from pick-up to delivery, ABC ensures that everything proceeds as promised and the customer support throughout the process is unrivaled. And, once your vehicles are delivered, you even get a chance to rate their services.
ABC Auto Shipping offers six options for service. The Auto transport service is a nationwide shipping program specializing in safe and quick transportation of vehicles across the United States. Additionally, you can opt to have your vehicle transported via the top level ("top load") of the Car Carriers and eliminate the possibility of fluids leaking from other cars onto your truck/car. Motorcycle Transport is for those looking to transport their motorcycles to events and exhibitions or to a new location. The Boat transportation program is for people transporting large boats and makes use of specialized trucks and flatbeds. For owners of classic cars, you can make use of enclosed Truck Transportation though ABC Auto Shipping when you want your vehicle fully protected from the elements during the transport. ABC Auto Shipping also offers Open Truck Transportation services for those transporting their vehicles on a more modest budget.
ABC Auto Shipping is a nationwide shipping company that transports vehicles to and from anywhere in the U.S. and specializes in transporting all kinds of cars for individuals and organizations of every size.
You can contact them on 949-394-1484 or 949-333-1684 or by visiting
http://abcautoshipping.com/
.
Contact
ABC Auto Shipping
Arman Hashemi
949-333-1684
www.abcautoshipping.com

Contact