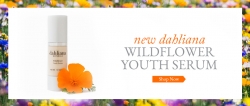 Grass Valley, CA, July 14, 2014 --(
PR.com
)-- Dahliana is proud to announce the launch of its vegan and luxury skincare product, "
Wildflower Youth Serum
," in the United States. Dahliana is a natural, bioactive skincare line specifically geared to provide anti-aging benefits for a variety of skin types.
Wildflower Youth Serum:
The secret life of Wildflowers assist in cell renewal and are stress relieving for one's beautiful complexion. Wildflowers are hand selected for maximum age prevention benefits and their exceptional healing properties. Dahliana includes Wildflower essences to give one's skin instant radiance with five floral oils including Camellia that deeply heal and hydrate your skin. Dahliana has added coconut water to this latest hydrating thirst quencher and makes this serum perfect for spring and summer. Natural aromas of Summer-Time Meadows will be mildly addicting.
Through years of scientific research, and more importantly, clinical experience, our company founder has chosen each individual mixture with the particular aim of turning back the clock. This is accomplished by using a unique combination of powerful key ingredients. Fresh cold pressed fruit juices, naturally occurring fruit acids (AHA) and fruit stem cells provide an enzyme stimulated base, and non-chemical bioactive results: all working together to repair and protect your skin. Dahliana includes cold pressed floral facial oils in many of our products and aromatherapy replaces synthetic fragrances.
"We believe that it's possible to have effective beauty products without compromise and we are dedicated to these following standards," states CEO and Founder Carola May. Dahliana products are all natural and use certified organic whenever possible. Dahliana is chemical free, paraben free, sulfate free and vegan.
Be assured that each batch is blended from the freshest, most lively, and pure ingredients we can find; with nothing superfluous added that could affect their potency, or irritate. Dahliana natural formulas create a symbiotic effect providing nutrition and penetrating the deepest layers of your skin. Dahliana formulas are unique and most all Dahliana ingredients are from the US and organically grown to maintain the highest standards.
We welcome you to the next generation of natural skin care!
Dahliana won the "Beauty Innovation Award" in Paris 2012 and "The Beauty Shortlist UK" for best night cream 2014.
dahliana.com