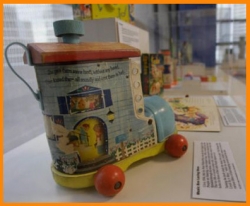 Houston, TX, July 15, 2014 --(
PR.com
)-- Saturday, August 23, 2014 @ 1:00 PM
Over 4,000 Antique & Contemporary Toys
Portion of proceeds to be donated to The Houston Children's Hospital
Location
Lewis & Maese Antiques & Auctions
1505 Sawyer St.
Houston, TX 77007
Preview Times:
Entire online catalog available at
LMAuctionCo.com
after August 1st.
Thursday & Friday, August 21 & 22 from 10 AM - 5 PM
Saturday, August 23 from 11 AM - 1:00 PM
All items will be available to bid on worldwide Live online through LiveAuctioneers.com
Details
This is a chance to own part of a collection of more than 4,000 antique and contemporary toys. The toys were part of the Houston Toy Museum, the only museum of its kind in the state.
Brucks Hall formed the nonprofit museum thirteen years ago to preserve his toys and to share their history. Efforts over the years to find a permanent home for the traveling museum have proved challenging, and now the collection will be offered to the public at auction.
The toys, circa 1805 to 2009, range from miniature furniture, trains, dolls and rocking horses to cars, boats and toy soldiers. Many of them are arranged in doll houses and in 1-foot-by-3-foot displays, which include a miniature bakery, meat market and leather shop. Most of the toys are made from wood and metal and some are metal with lithographs. Some of the toys are from England and Germany, and many of the doll houses are handmade.
Hall inherited most of the rare collection from his close friend, Houston resident Rosemary Weatherred, whom he met in the 1950s when he moved to Houston. Before she died about 15 years ago, she asked him to put them in a museum for people to enjoy.
The museum has had several homes over the years, including the Museum of Southern History in Sugar Land, TX. On August 23rd you will have the opportunity to purchase one of many nostalgic toys and bring a piece of history to your home as well.
Image
A Fisher-Price Little People set, circa 1964, is among many of Brucks Hall's toys from the Houston Toy Museum.