Bernarda Morales Collection Welcomed at Enk International's Intermezzo Collections Global Trade Show for the August 2014 Buying Season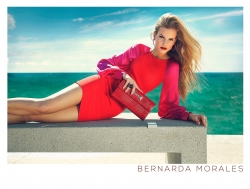 New York, NY, July 16, 2014 --(
PR.com
)-- Fashion designer Bernarda Morales has been invited to exhibit her resort collection at the prestigious Intermezzo Collections global trade show to take place this August 3-5 at the Javits Center of New York City. For the event, her collection will focus on ready-to-wear, swimwear, and evening gowns, all created in her own manufacturing company KaoKao, Inc. based in Miami, Florida. With an emphasis on design, fine quality, careful tailoring, and practicality, Bernarda Morales Collection is the perfect choice for the professional, determined woman who is passionate, driven, and who has an appreciation for fashion, arts, travel, and the luxuries and blessings life has to offer.
The resort collection makes use of 3 color schemes: light, mid-tones, and dark, allowing for a mix of luxe, and versatility. Each garment is carefully designed and created to facilitate an easy transition from day to night, or from work to play. For this collection, Bernarda Morales' choice of fabrics includes fine silks, glamorous prints, strong solid colors, as well as guipure and Chantilly laces imported from Italy and France. Pieces to be exhibited for the elite retail buyers assisting the event will range from cocktail dresses and tailored jumpsuits, to maxi dresses and swimwear pieces inspired by the most popular luxury beach spots in the world.
With over 20 years of experience in apparel manufacturing, fashion design, and her work with multiple established brands, Bernarda Morales is a name to be noted. An honorary alumni of the prestigious international school of fashion and arts, Altos de Chavon in Dominican Republic, Bernarda Morales' creations have graced multiple prestigious red-carpet events of the Latino community including the Latin Grammy Awards, and the Latin Billboard Awards. These creations have gained her recognition on multiple best-dressed lists. With her continued participation at Enk International trade shows, Bernarda Morales is ready to go global, and infuse her clientele with the same passion and love she feels for fashion and her career.
For more information about Bernarda Morales, please visit us online at www.bernardamorales.com, at our showroom/atelier of Miami, or at our social media pages www.facebook.com/bmkaokaoinc; Twitter: @BernardaDesigns; IG: BernardaMorales.
Media contact:
Jose Morales
(917) 477-9433
jmkaokao@gmail.com/info@bernardamorales.com
1470 NW 107th Ave. Suite V.
Miami, Fl. 33172
Contact
KaoKao, Inc. - Bernarda Morales Collection
Jose Morales
917-477-9433
www.bernardamorales.com
www.facebook.com/bmkaokaoinc
Twitter: @BernardaDesigns
IG: BernardaMorales

Contact