Arrowhead Grill Celebrates Summer with New Light and Delightful 3-Course Prime Rib Dinner Each Sunday and Monday 'til Summer's End
Arizona restaurant Arrowhead Grill debuts new summer menu created by Chef Charles Wade Schwerd.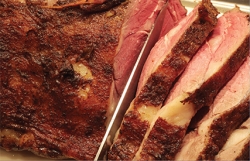 Glendale, AZ, July 16, 2014 --(
PR.com
)-- Arizona foodies have reason to celebrate this summer with the new light and delightful dining experience created especially for the season by Chef Charles Wade Schwerd of Arrowhead Grill.
Featuring an 8-ounce cut of tender, slow roasted Prime Rib, $28.99, or a 12-ounce cut, $35.99, Arrowhead Grill's 3-course Prime Rib Dinner is the perfect way to celebrate summer.
"We've created a wonderful dining experience that's perfect for summer," said Charles Schwerd, owner of Arrowhead Grill. "Our 3-course Prime Rib Dinner is the perfect choice for those who love steak and fine dining. It offers lighter dining options and gluten-free desserts, for those who want them, without sacrificing taste or experience. And it includes an amazing selection of dishes to please every guest."
Diners will begin with their choice of four select salads, including AG's timeless Iceberg Wedge salad, a classic Caesar salad, a light chopped salad with heirloom tomatoes, or the house salad served with kalamata olives and Parmigiano-Reggiano cheese, or clam chowder or French onion soup.
Each 3-course dinner includes the choice of one of twelve side dishes, including creamed spinach or creamed corn, maple mashed potatoes, mashed Yukon potatoes, sautéed broccoli, sautéed spinach, sautéed green beans, loaded baked potatoes, creamy au gratin potatoes, beer battered onion rings, sautéed mushroom and onions, green chili mac & cheese, French fries or sweet potato fries.
The night isn't complete until guests indulge in their favorite desserts, and there's something for everyone with AG's Prime Rib Dinner. The 3-courses include the choice of AG's Signature Butter Cake, Ghirardelli brownie, crème brûlée, key lime pie, New York style cheesecake, fresh berries and cream, and gluten-free options like strawberries and chocolate fondue and AG's decadent flourless chocolate cake.
Guests can enjoy the 3-course Prime Rib Dinner throughout the summer at Arrowhead Grill.
For more information about Arrowhead Grill, visit www.arrowheadgrill.com. To get the latest news about Arrowhead Grill's daily specials, follow Arrowhead Grill on Twitter at www.twitter.com/arrowheadgrill and on Facebook at www.facebook.com/arrowheadgrill.
Known as one of the Valley's best steakhouses, Arrowhead Grill is located at 8280 W. Union Hills Dr. (Loop 101 and Union Hills) in Glendale.
About Arrowhead Grill
Established in 2008 by renowned Valley chef Charles Wade Schwerd, Arrowhead Grill epitomizes Schwerd's two decades of steakhouse experience, offering Valley residents a diverse menu of top quality steak and seafood. Featuring all natural meats and fresh, mercury-free seafood selected especially for Arrowhead Grill, the Glendale-based restaurant offers something for everyone in a setting that's unpretentious yet sophisticated. For more information, please visit www.arrowheadgrill.com.
Contact
Arrowhead Grill
Al Stevens
480-648-1770
www.arrowheadgrill.com

Contact