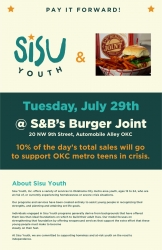 Oklahoma City, OK, July 22, 2014 --(
PR.com
)-- Sisu Youth, Inc. began 5 years ago as a personal quest for founders Penny Reynolds and Amber Richardson to identify and gather youth focused trauma and crisis services in the Oklahoma City metro area into one centralized location.
According to the Department of education there were over 8,000 metro area public school students who qualified as homeless in the 2013 school year. These numbers do not account for the thousands of students who dropped out of school, who are beyond high school age or who have aged out of foster care with no family to support them.
On June 5th Sisu Youth, Inc. was finally able open its office doors at 1225 Sovereign Row, Suite 105 off Meridian Avenue and Interstate 40 in Oklahoma City. Being run solely on volunteer work and donated dollars the Sisu Youth Center is currently open only one day per week. Sisu offers 15 to 24 year olds a non-judgmental and safe place to visit on Thursdays, from 11:00 AM to 5:00 PM. The center houses a small snack kitchen, a clothing closet, community room, salon area, access to hygiene supplies, counseling, medical care, education and workforce assistance, case management and connections to partner agencies across the city.
On Tuesday July, 29th the S and B's Burger Joint, Midtown location, has offered to donate 10% of the day's sales to the work of Sisu Youth, Inc. All area residents interested in supporting the at-risk and homeless youth of Oklahoma City are encouraged to come out and show their support.