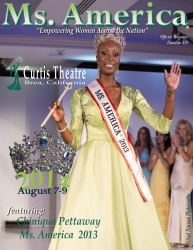 Brea, CA, July 24, 2014 --(
PR.com
)-- The Ms. America® Pageant is for women 26 years of age and up who are single, divorced, married, widowed, with or without children. The pageant is based on four areas of competition: Evening Gown, Interview, Sportswear and Finalist On-Stage Question that are each worth 25% of their total score.
Contestants are to have a Platform or Cause that they believe in and would like to use their title and "crown for a purpose" to make a difference. Optional Titles awarded at this year's pageant will be Ms. America International® 2014 for women 40-60 years of age and Ms. International™ 2014 which is the "Judges and People's Choice" Award.
Emcee for the pageant is Scott Stewart who is the host and producer of the TV show "What's Up Orange County" that airs on KDOC, Time Warner and Cox Communication.
When: Saturday, August 9, 2014
Time: 6:00 pm – Red Carpet
6:30 pm – Doors Open
7:00 pm – Pageant starts
Location:
Curtis Theater – Brea Civic & Cultural Center
1 Civic Center Circle, Brea, California 92821
Tickets: $35.00 each
Purchase tickets on the website: www.MsAmericaPageant.com
Reigning titleholders Ms. America® 2013 is Chiniqua Pettaway from Houston, Texas and is a Certified CPA. Ms. America International® 2013, Robin Griffin from Laguna Niguel, California is a actress and mother of twin girls. Ms. International™ 2013, Stacy Smith is the owner of OC Hair and Makeup in Orange County, California. Their year has been filled with making appearances for various charities, grand openings, red carpet events and they have received worldwide media attention!
CEO of the pageant is Susan Jeske from Orange County, CA. Susan's background includes over 20 years in the beauty industry and was crowned Ms. America® 1997 at the Luxor Hotel in Las Vegas besting 50 other contestants. Her platform was "Students Against Violence" and she made over 150 presentations to schools across the country. Susan is also known for holding the Guinness Book of World Record for singing the National Anthem at the most events in a 24 hours period and has sung the National Anthem for 7 United States Presidents. She received the Lifetime Achievement Award from the President of the United States for her volunteer service. Website about Susan Jeske:
www.SusanJeske.com
.
Richard Simon from Houston, Texas founded The Ms. America ® Pageant in 1997. The first pageant was held on December 4, 1997 at the Luxor Hotel in Las Vegas. Contestants competed representing their state in the pageant. Susan Jeske from Colorado was crowned the first Ms. America®, winning $75,000 in cash and prizes. Ms. Jeske became the owner of the pageant in 1999.
The Ms. America ® Pageant is a registered federal trademark with the USPTO in Washington DC since February 2000. For more information, go to www.MsAmericaPageant.com.
Contact: Susan Jeske – CEO - Ms. America® Pageant
Phone: (949) 679-8888
Email: MsAmericaPageant@aol.com
Website:
www.MsAmericaPageant.com
Facebook:
www.Facebook.com/MsAmericaPageant
Twitter: www.Twitter.com/MsAmerica