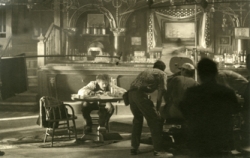 Tucson, AZ, July 30, 2014 --(
PR.com
)-- A solo exhibition of "Retrospective Photography by Gary Auerbach" will run September 1-30 at the Historic Rancho Linda Vista Gallery in Oracle, Arizona. More than 40 prints from a life's work spanning 30 years will be on display. The Opening Reception will be on from 1 to 5pm on Sunday, Sept 7th.
Auerbach, a doctor of chiropractic, is most widely known for his work with Native Americans; these and other works are in the collections of the Smithsonian Museum in Washington, DC, Musee Jenich in Switzerland, and the Center for Creative Photography at the University of Arizona, among others.
The works in this show include a diversity of subjects, images and printing methods and most of the photographs were taken with large format 8x10 and 11x14 view cameras. The works show a wide variety of printing methods including platinum/palladium, cibachrome, cyanotype, gum bichromate, polaroid image transfers, copper plate photogravure, photopolymer engravings and gelatin silver prints. There is also a unique auto stereoscopic multi-dimensional platinum print.
Portraits of Native Americans represent the largest faction of the exhibition. Tribes represented include Arapaho, Assiniboine, Isleta, Navajo, San Carlos Apache, Sioux, Taos, and Tohono O'odham Indians. The collection includes portraits as well as images of weavers, musicians, Canyon de Chelly, Taos Pueblo and Taos cemetery. These works are included in his book, titled "We Walk in Beauty."
In addition to Native American subjects, the exhibition will also include "Birth of Legend" movie set photographs, models from The Drawing Studio, restoration of San Xavier Mission and numerous cityscapes from Europe and beyond.
The Sept 7th Opening Reception will have acoustic music by Randall Swindell, lead singer of the former rock band, Ensphere. Auerbach will be at the gallery every Sunday from 1-5 during the exhibition's run to answer questions; works will also be offered for sale.
About Rancho Linda Vista: From its inception, Rancho Linda Vista has provided a place for artists, artisans' designers, writers, thinkers and their families to live, share ideas and immerse themselves in the creative process. The original Rancho Linda Vista was founded in 1910. Ranch visitor Harold Bell Wright sold the movie rights to '"The Mine with the Iron Door," with an agreement that the film would be made on location in Oracle. Providing bed and board for the cast and crew of the likes of Rita Hayworth, George Sanders and Gary Cooper, the site became one of Arizona's first dude ranches. In the late 1960's, Andy Warhol made his only Western movie at the ranch, Lonesome Cowboys, causing something of a scandal among the denizens of Oracle. Map to RLV: http://www.interstice.us/rlvweb/imgs/rlv-map.gif Rancho Linda Vista 1955 W. Linda Vista Road, Oracle AZ 85623
Cutline to Photo:
Platinum photograph of Richard Dean Anderson (MacGyver) in the bar of the Old Tucson Sound Stage during the filming of 'Birth of Legends'. It was the last photograph taken on the sound stage before it burned down one week later. Paramount Pictures 1995