Teleperformance Announces Major Growth in the Abilene, Texas Area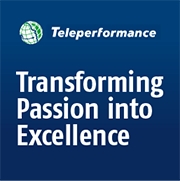 Abilene, TX, August 01, 2014 --(
PR.com
)-- Teleperformance USA, the largest contact center services company in the world has announced 300 new positions in Abilene, Texas over the next few months supporting one of the nation's largest Health Insurance companies.
These positions will be assisting members with the insurance needs for the upcoming year and answering questions through inbound calls at the Abilene center.
Company officials state that wages will range from $9.00 to $12.00 per hour depending on experience. Teleperformance offers paid training, monthly pay for performance bonus programs, paid time off, medical, dental, employee referral programs, 401K and much more. They are seeking contact center agents as well as supervisors and managers who are looking for career opportunities in the customer service industry.
"We are very excited to be launching these new programs and bringing these career opportunities to the great city of Abilene," says Todd Hatch, Executive Vice President of Operations, a three year veteran of the company. "We currently employ nearly 400 customer service and technical support professionals in our Abilene location with over 2000 full time employees in the state of Texas and these new positions will provide for further expansion and growth with great career opportunities."
"Teleperformance has been a community partner in the Abilene area for 10 years has seen its employee base increase over the years. We're a people company. Our people represent us, make us successful, and make us proud," says Jim Phillips, Vice President of Recruitment for the company. Phillips, who started as a phone agent has seen the company grow for three sites in 1998 to twenty six sites today in the U.S. and says that the opportunities are endless if you have the determination to get the job done.
The Abilene center is located at 949 S. Judge Ely Blvd and is accepting applications in person Monday through Friday 8am to 4pm and you can apply online at Teleperformance.com.
Teleperformance encourages all military members, veterans and military spouses to apply.
About Teleperformance: Teleperformance, the worldwide leader in outsourced multichannel customer experience management, serves companies around the world with customer care, technical support, customer acquisition and debt collection programs. In 2013, it reported consolidated revenue of €2,347 million ($3,028 million, based on €1 = $1.29). The Group operates more than 110,000 computerized workstations, with 149,000 employees across more than 230 contact centers in 62 countries. It manages programs in more than 63 languages and dialects on behalf of major international companies operating in a wide variety of industries.
Contact
Teleperformance
Jim Phillips
801-366-1743
teleperformance.com

Contact