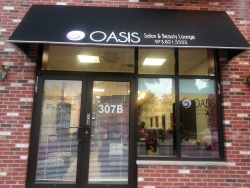 South Orange, NJ, August 02, 2014 --(
PR.com
)-- For women, summer is the perfect season for a pampering day at the salon. Oasis Salon & Beauty Lounge promises to deliver that and more with its full suite of hair and nail care services.
Oasis prides itself on being the "one-stop for everything beauty" by providing a wide range of services that include, natural and chemically treated hair care and styling, nail care, make-up, waxing, and coming soon…threading. Oasis will also host your special event such as a bridal shower or ladies night out in a private setting with catering and cocktails included. Simple and easy booking on Facebook any time of day is available for convenience.
"We want to transform hair and nail care by offering women a true beauty experience. We've built a family of experienced stylists who are dedicated to providing our clients with prompt, high quality, comprehensive beauty services in a professional, relaxed and inviting atmosphere," said Ana Dunkers, owner.
This luxurious salon, conveniently located at 307B Irvington Avenue in South Orange, NJ, caters to women with all types of hair texture, style, and needs.
"At Oasis, it's all about the complete beauty experience. It's more than just getting your hair or nails done. We use the best products, offer complimentary beauty maintenance products, and provide continuous education to each client to help achieve their beauty goals," said Dunkers.
Oasis Salon & Beauty Lounge will celebrate its grand opening, which will include a cocktail party on Friday, September 5, 2014, from 7:00 – 10:00 pm and a day full of fun events, workshops and giveaways on Saturday, September 6, from 12:00 – 5:00 pm. Ribbon cutting begins promptly at 12:00 pm on Saturday, September 6. For more information and to make an appointment, visit www.oasis-beauty.com or call 973.821.5522.
Press Contact
Ana Dunkers
Oasis Salon & Beauty Lounge
307B Irvington Avenue in South Orange, NJ
oasisbeautylounge@yahoo.com
www.oasis-beauty.com
Mobile: 570.856.2681
Salon: 973.821.5522
facebook.com/oasisbeauty14