Lebanese Woman Turns Her Back on All She Knows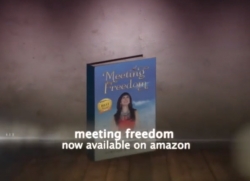 San Francisco, CA, August 03, 2014 --(
PR.com
)-- Seeking the true meaning of freedom, a young Lebanese woman turns her back on all she knows to explore her personal truth without fear of judgment. The first among the women in her family line to leave Lebanon and live independently, Cynthia Belmer displays true courage and motivation in her quest for personal fulfillment.
In "Meeting Freedom, How I Let Go of Who I Thought I Should Be and Revealed My Authentic, Unstoppable Self" you will journey alongside Cynthia as she faces her fears head-on, including her family's devastating financial crisis, war and terrorism, judgment, rejection, personal struggles, loneliness, and conflict in relationship. The author then beautifully turns these life lessons inside-out to offer you inspirational coaching questions as they relate to each chapter.
Author and Psychologist Florence Strange, B.A., B.Ed., M.Ed. summed it up as follows, "As a Psychologist, I am in awe of the open and vulnerable manner in which Cynthia presents herself in this story. It is a great illustration that all humans have the same fears, regardless of our successes, past experiences or history. Overall, a great read which I would highly recommend, especially for ambitious women!"
Using her years of experience as a relationship coach, Cynthia shares her engaging story with the purpose of helping you take a closer look at your own fears and dreams, and break free from your own struggles.
Belmer says, "Although this story is about me, at its most intrinsic level, it is about all of humanity. We share the same emotions and the same basic desires in life. Human emotions are universal regardless of the stories we tell ourselves, and beneath it all, we want the same thing: to be free to be who we are and to be loved unconditionally. This book is about how the hardships I perceived in my life were an invitation to get in touch with the seed of love and power that is already within me. My goal in this book is to inspire you to grow and to seek your freedom."
"Meeting Freedom" will be released early in August 2014 and is available at online stores and at
her website.
Contact
Cynthia Belmer
415-539-5777
www.cynthiabelmer.com

Contact