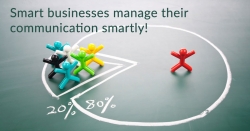 New Delhi, India, August 05, 2014 --(
PR.com
)-- Akzo Nobel, a leading global paints and coatings company and a major producer of specialty chemicals, completed its 60 years as AkzoNobel India this May.
The company behind the popular brand name, Dulux, claims that the key enabler of their growth strategy was the merger of three Indian subsidiaries of Akzo Nobel N.V. with Akzo Nobel India.
Dulux, the decorative paint brand of Akzo Nobel has been witnessing a major interest in its color consultancy and painting services. They are using a tollfree number to attract customers and encourage them to try their services.
Identifying the huge potential for decorative paints in India Akzo Nobel Executive Committee Member (Decorative Paints) Ruud Joosten told PTI, "We are the only ones in the world with a global presence, that gives us a lot of opportunity to use lot of innovations, for digital and developments that we can use in our organisation."
MyOperator is now powering the tollfree number 1800 103 7373 for color consultancy and painting services by Dulux.
MyOperator, the flagship product of VoiceTree, is
a cloud based IVR technology for managing business calls
. IVR or Integrated Voice Response, is the automated voice that guides customers in calling businesses for queries or support.
A growing call management service, MyOperator has zero setup costs, and many beneficial features such as call recording, voicemail facilities, unlimited scalability and real-time monitoring. MyOperator is also versatile, catering innovative 30 second setups to packaged design that lets non-tech businesses adopt and manage their everyday calls on a regular basis.
"The idea of MyOperator is to provide not just a virtual PBX or a tollfree number, but to create a complete call management system," says Ankit Jain, sharing his vision for MyOperator.
After stumbling on a few blocks, Ankit, who claims 'Voice' to be his passion, decided to market MyOperator for the Indian market.
"What's different about MyOperator," says he, "is that MyOperator emerged from being a small service to few initial customers to a full-fledged product. It hence is molded out of customers real pain points. We kept the fundamentals of MyOperator based on how regular employees in a company, which are not necessarily a call center or support center, would be handling calls."
A sixty strong team of impassioned and determined people today, VoiceTree works on the idea of 'voice being the key means of communication', as conceived by Ankit, in his college days. Among the 7500 businesses that VoiceTree serves, are successful organizations like Aam Aadmi Party, IRCTC, Snapdeal.com, Lenskart.com and the Vatika Group.
VoiceTree aspires to, through MyOperator, provide small and medium enterprises in India a credible, lucrative and economic cloud based telecommunication infrastructure, that will enable them to reach their customers effortlessly.