Strathmore's Who's Who Honors Kurt E. Yeager with Special Times Square Appearance
Kurt E. Yeager, of Aptos, California, has recently been recognized by Strathmore's Who's Who for his outstanding contributions and achievements in the field of Energy. In honor of his accomplishments and professionalism, Mr. Yeager's image will be projected over Times Square, New York, on September 11, 2014.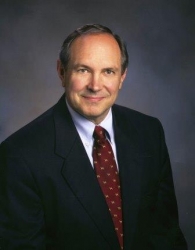 Aptos, CA, August 20, 2014 --(
PR.com
)-- About Kurt E. Yeager
Kurt E. Yeager is Vice Chair of Galvin Electricity Initiative and its Perfect Power Institute, a company which works to transform the way communities generate, deliver and use electricity. Mr. Yeager works toward changing electricity policies which are necessary for system transformation. Prior to joining Galvin as the Executive Director of the Initiative, Mr. Yeager served as President and Chief Executive Officer of the Electric Power Research Institute. During his time with EPRI the company grew from a nonprofit think tank to a group of companies that devote proprietary and collaborative research and development for the electric power industry nationally and abroad. He retired from EPRI in 2004 after 30 years with the organization. Previous to joining EPRI, Mr. Yeager was the Director of Energy Research and Development Planning for the EPA Office of Research and before that he was Associate Head of the Environmental Systems Dept. at MITRE Corp. Mr. Yeager has chaired the World Energy Council study on Energy and Climate Change and is a convening author for the Global Energy Assessment. He has authored over 200 technical publications on energy and environmental topics including Co-Author of "Perfect Power: How the Microgrid Revolution will Unleash Cleaner, Greener and More Abundant Energy." He is a Fellow of the American Society of Mechanical Engineers and its Industry Advisory Board as well as Trustee of the Committee for Economic Development. Mr. Yeager has served on the Executive Boards of the National Coal Council, the U.S. Energy Association, the Nuclear Energy Initiative and the National Coalition for Advanced Manufacturing. Mr. Yeager has led the electricity enterprise-wide collaborative development of the landmark Electricity Technology Roadmap and the Electricity Sector Framework for the Future. Mr. Yeager is a Distinguished Graduate of the U.S. Air Force Nuclear Research Officers' Program while serving 7 years active duty with the U.S. Air Force Technical Applications Center. He received a Bachelor's degree from Kenyon College. He completed post-graduate studies in Chemistry and Physics at Ohio State University and the University of California, Davis. He has also completed management programs at the Industrial College of the Armed Forces and the University of Pennsylvania Wharton School of Finance. Mr. Yeager has been named the Technology Policy Leader for Energy by Scientific American Magazine and he is the recipient of the EnergyBiz Leadership Forum's Lifetime Achievement Award.
About Strathmore's Who's Who
Strathmore's Who's Who honors successful individuals in the fields of Business, the Arts and Sciences, Law, Engineering and Government. We honor professional men and women in all academic areas and professions based on one's position and accomplishments. Inclusion is limited to individuals who have demonstrated leadership and achievement in their occupation, industry or profession. The Time Square appearance is given to the individual who has demonstrated consistent excellence in their career. The visual celebration of this individual will be displayed on digital screens at the venerable and historical 3 Times Square, New York, one of the busiest and most high profile landmarks in the nation.
Contact
Strathmore Who's Who
Ann Marie Barone
516-997-2525
www.strathmore-ltd.com

Contact