CURT's TriFlex Brake Control Provides Peace-of-Mind Towing
Triple-Axis Control is Compact in Design, Packed with Features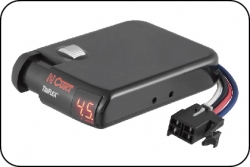 Eau Claire, WI, August 08, 2014 --(
PR.com
)-- CURT Manufacturing, a leading manufacturer and marketer of top-quality towing products, offers the latest technology in brake controls. The TriFlex brake control rises above the rest with its features and compact design. When towing a large trailer, it is essential that the trailer be equipped with brakes and the vehicle utilizes a brake control. Without a brake control, a trailer's brakes will not activate, creating a potentially hazardous situation for the tow vehicle and others on the road. CURT's TriFlex brake control significantly reduces a tow vehicle's stopping distance while ensuring smooth stops.
The TriFlex is a proportional brake control that senses the inertia of the tow vehicle, allowing it to accurately apply the appropriate amount of power to the trailer brakes. The technology behind this control is the use of a triple-axis (x, y, z axes) accelerometer, located within the brake control. As the tow vehicle's speed and momentum change, the TriFlex provides the exact amount of braking power needed for safe, efficient and smooth stops every time.
Utilizing CURT's TriFlex brake control will maximize the efficiency of trailer brakes by eliminating excessive braking and tire lock-up, thereby extending the life of your trailer brakes and tires. Not only is the CURT TriFlex brake control easy to install, it can also be mounted at various angles and is ready to use in fewer than ten minutes. The sensitivity adjustment feature in the TriFlex allows the user to customize the brake control based on varying trailer loads or driving conditions. It is compatible with advanced multiplex electrical systems, electric-over-hydraulic braking systems and can be used on trailers with up to four axles. CURT's lifetime warranty, along with the extensive lineup of features, makes the TriFlex the best brake control on the market today.
Click here
to view an impressive product video on the CURT TriFlex brake control.
About CURT Manufacturing: CURT is a leading manufacturer and marketer of premium towing products. The company offers American-made, custom-fit receiver hitches and wiring harnesses for nearly any vehicle on the road. They also market a broad range of trailer hitches, towing systems and related accessories. CURT is 'The First Name in Towing Products' for automobile, SUV, and truck hitches, as well as RV, gooseneck and commercial towing systems. Products are marketed through retailers, distributors, installers, and e-tailers across the U.S. and Canada. CURT employs hundreds of associates, primarily at their manufacturing facility and corporate headquarters located in Eau Claire, Wisconsin. CURT operates 10 regional warehouses throughout the United States and Canada and has been twice named a Wisconsin 'Manufacturer of the Year'.
For additional information on CURT products or to become a dealer,
click here
or call toll free at 1-877-CURTMFG (287-8634)
Contact
CURT Manufacturing
Sarah Barone
1.877.287.8634
www.curtmfg.com

Contact