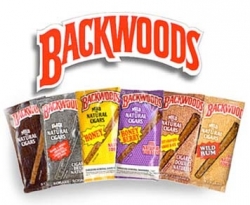 Miami, FL, August 14, 2014 --(
PR.com
)-- The Backwoods Cigars Brand Generates Strong Loyalty
Backwoods Cigars
have flavoring infusions in the company's signature blend of natural and homogenized tobacco, and the cigars claim a leading position among smokers who seek great flavor in value-priced cigars. The brand has a wide and loyal customer base in the United States, United Kingdom and Turkey, and customers enjoy Backwoods Cigars as occasional smokes or everyday cigars that deliver flavor and consistent quality at low prices. These characteristics make the brand an ideal addition to Florida Tobacco Shop's portfolio of low-priced cigars and smoking accessories. Packed in resealable pouches, these cigars are known for mild, aromatic flavor and a distinctive aroma. Flavor choices of Brands Cigars include:
Grape
Vanilla
Original Wild N' Mild
Wild Rum
Banana
Black N' Sweet
Sweet Aromatic
Honey Berry
Honey
Outstanding Selection and Service for Today's Cigar Smoker
Florida Tobacco Company brings together all the best brands of machine-made cigars and smoking accessories so that people can browse, shop, order and try new types of cigars conveniently by ordering from their computers, laptops or smartphones at any time or day of the year. Deliveries by USPS or UPS ensure that cigars, wraps and accessories arrive conveniently and quickly.
Finding quality accessories like ashtrays that are suitable for commercial smoking lounges, desktop and glass-top humidors and fashionable windproof lighters
Getting everything needed for cigar smoking and sampling brands from one online vendor
Low prices and free shipping on orders over $150.00
Bargain prices on cigar closeouts
Access to quality filter tubes, wraps, cutters and smokers' paraphernalia
Special sales and promotions
Rewards program points on special promotions
About Florida Tobacco Shop
Florida Tobacco Shop began business in 2014, and in a few short months, the online retailer had already become one of the top three cigar retailers due to its core objective of providing low-price cigars and outstanding customer service.
Contact Details
Florida Tobacco Shop
Website:
FloridaTobaccoShop.com
Phone: 800-774-0414
Address:
7290 NW 7th St
Suite 105
Miami, FL 33126