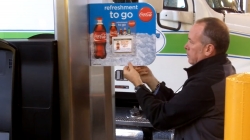 Dayton, OH, August 15, 2014 --(
PR.com
)-- Outta the Box recently achieved U.S patent (8,763,288 B2) for The Pumpsider™, a point of sale product to make fuel pump advertising and promotions fast, easy, and effective. Their patented Pumpsider™ provides a unique opportunity for advertising on the side of fuel pumps. An innovative way to drive traffic from the pump into the store, the Pumpsider™ helps brands capitalize on opportunities available at the pump.
The Pumpsider™ was developed to be a state of the art advertising solution at fuel pumps that is easy to manage from shipping to breakdown. The Pumpsider ships flat, and comes with intuitive and simple instructions for application to any pump. Utilizing special Align-Rite™ waves and unique die-cuts, the Pumpsider can quickly and uniformly be transformed from flat to full display ensuring the best visual effect at the pump. Application is quick and hassle-free with their patent pending adhesive, which holds over 80 pounds and withstands hurricane force winds yet leaves no residue when removed. This combination provides maximum ROI for retailers.
For extended value, The Pumpsider is uniquely designed to work with Outta the Box Pop N' Sell dispensers. Placing Outta the Box Pop N' Sell Weather Resistant Coupon Dispensers on either side of the highly visible Pumpsider™ helps promote offers and drive even more foot traffic from the pump to the store. Utilizing patented technologies both Pumpsider™ and the weather resistant coupon dispenser from Outta the Box work together to bring advertisers increased sales and lift ROI.
To view a demonstration video on The Pumpsider and to learn more about other Outta the Box point of sale products, please visit www.outtathebox.com/pumpsider.